Home » Authors, Doll Mona Leigh, J.B. Lynn, Reviewers, Reviews
Review: Confessions of a Neurotic Hitwoman by J.B. Lynn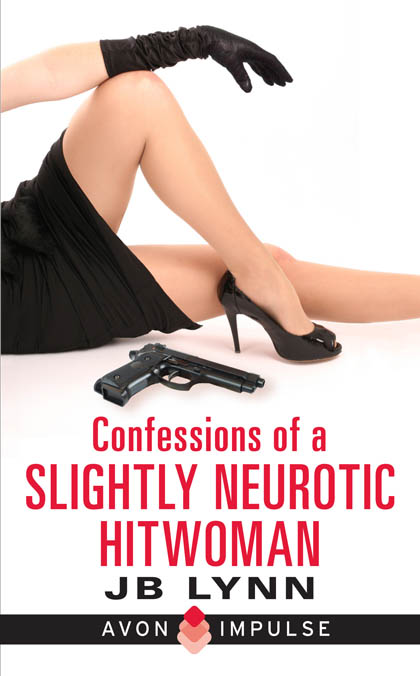 Author: J.B. Lynn
Book: Confessions of a Neurotic Hitwoman
Release: February 28, 2012
Series: Novel
Reviewer: Mona
Source: Avon
Purchase: | Book Depository

Maggie Lee is not your average hitwoman. For one thing, she's never killed anyone. For another, after hitting her head in the car accident that killed her sister, her new best friend is a talking lizard—a picky eater, obsessed with Wheel of Fortune, that only Maggie can hear.

Maggie, who can barely take care of herself, is desperate to help her injured and orphaned niece get the best medical care possible, so she reluctantly accepts a mobster's lucrative job offer: major cash to kill his monstrous son-in-law.

Paired with Patrick Mulligan, a charming murder mentor (who happens to moonlight as a police detective), Maggie stumbles down her new career path, contending with self-doubt, three meddling aunts, a semi-psychic friend predicting her doom, and a day job she hates. Oh, and let's not forget about Paul Kowalski, the sexy beat cop who could throw her ass in jail if he finds out what she's up to.

Training has never been so complicated! And, this time, Maggie has to get the job done. Because if she doesn't … she's the mob's next target.
If you're looking for a good laugh, you've come to the right place. J.B. Lynn has given us the next Stephanie Plum in the form of Maggie Lee.
What's a girl supposed to do when an accident leaves her sister and brother-in-law dead, her tiny niece Katie in a coma, and the insurance isn't enough to cover the expenses? As a claims representative for Insuring the Future, Maggie doesn't make the kind of money needed ensure her niece has the very best care, so she has to figure out how to cover the costs before the hospital turns Katie over to another facility. She also has to take care of Katie's very small anole lizard named Godzilla….God for short. Oh, yeah, he talks. At least, he talks to Maggie.
After being rudely accosted in the hospital hallway by a sleazy jerk, Maggie decides to give him a piece of her mind and follows him into a patient's room only to discover that he's smothering the patient. She does the only thing she can think of—hits him with a plastic chair—thereby preventing a murder. She later learns the man was Alfonso Cifelli, son-in-law to mob boss Anthony/Tony Delveccio. (Delveccio is a twin. Their not-too-bright mother named them Tony and Anthony and Maggie has no idea which one she's dealing with.) The person she saved turned out to be Anthony/Tony's grandson…Alfonso's son.
Anthony/Tony makes her an offer: Kill Alfonso and he'll pay her one hundred thousand dollars—enough money to keep Katie right where she is. But since Maggie has no skills and only a week to do the job, Anthony/Tony arranges a meeting with someone who will train her. That someone turns out to be police detective/hitman Patrick Mulligan.
The path of the story is never straight, never what you expect, but always darkly funny. Maggie's three weird aunts, incarcerated father, and mother in the loony bin make it seem she's the only sane person around. But after talking to God (the lizard), she begins to doubt her own sanity.
The secondary characters are as bold and quirky as Maggie Lee. You'll fall in love with her co-worker, Armani Vasques, who gives a whole new meaning to the term 'smart ass' and Paul Kowalski, who may or may not be a dirty cop. Fifty-something Aunt Leslie, who's usually higher than a kite, is twin to Aunt Loretta, the sex kitten.
This dark comedy is great entertainment, and I hope Lynn plans to make this into a series, because I can't wait to read more.
Mona's first grade teacher, Mrs. Stanford, gifted her with the love of reading. For that, she'll always live in her heart. But reading took over Mona's life, eclipsing everything but playing sports, and has continued to be a huge part of her life. Although she has always written poetry and stories for her self, last year she decided to try her hand at writing fiction. She is currently editing her first urban fantasy and hopes to have it ready for the agent by summer's end. Besides reading, Mona loves speed in the form of fast cars. The faster, the better! In her next life, she plans to drive race cars (or whatever happens to be their replacement in the future) all while reading and writing. She has also taken up rune reading, and find it to be disturbingly accurate and exciting.
Doll Mona Leigh