Home » Authors, Doll Mona Leigh, Reviewers, Reviews, Tessa Dare
ARC Review: A Week To Be Wicked by Tessa Dare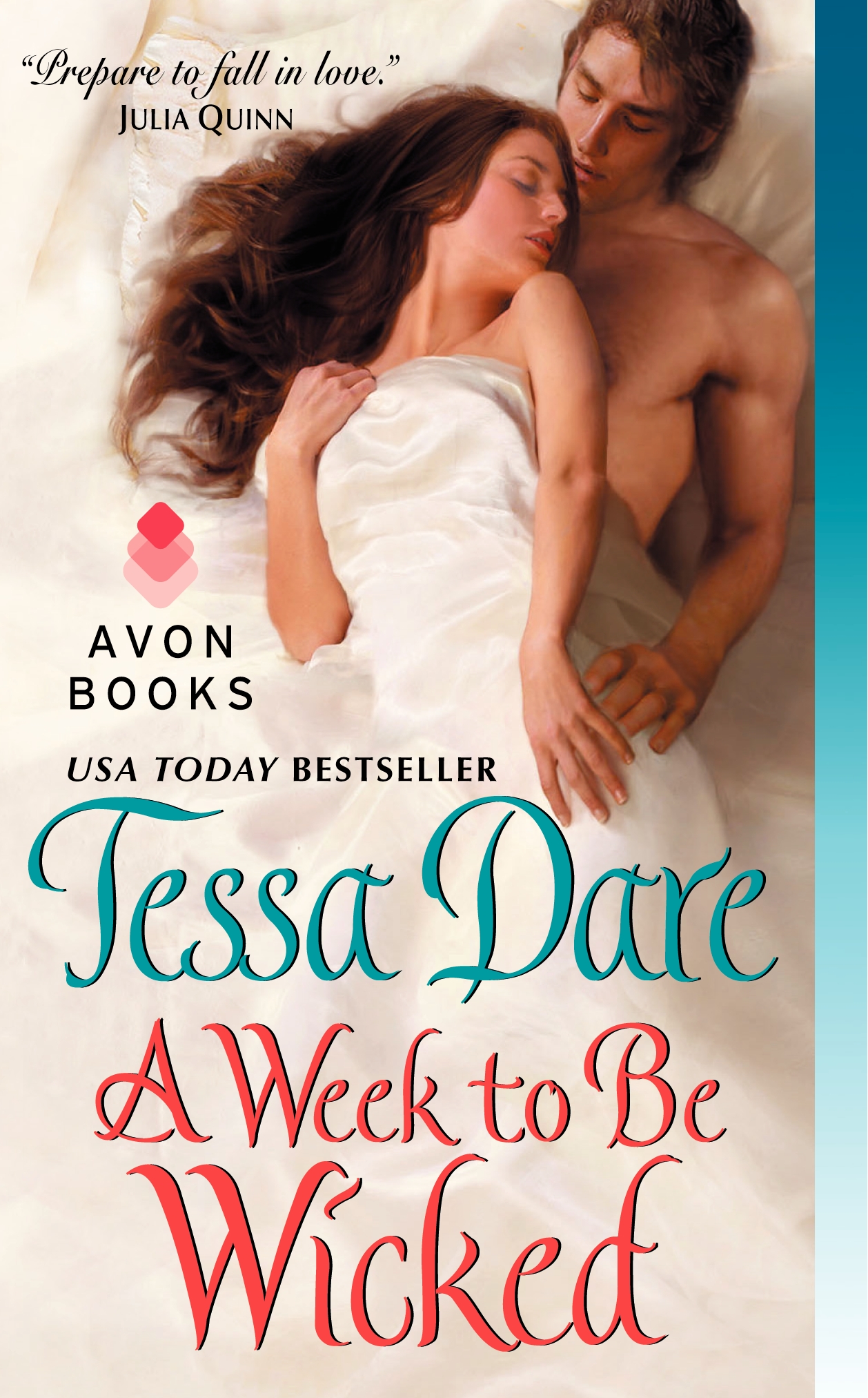 Author: Tessa Dare
Book: A Week to be Wicked
Release: March 27, 2012
Series: Spindle Cove 2
Reviewer: Mona Leigh
Source: Avon
Purchase: | Book Depository

When a devilish lord and a bluestocking set off on the road to ruin…

Time is not on their side.

Minerva Highwood, one of Spindle Cove's confirmed spinsters, needs to be in Scotland.

Colin Sandhurst, Lord Payne, a rake of the first order, needs to be… anywhere but Spindle Cove.

These unlikely partners have one week

to fake an elopement
to convince family and friends they're in "love"
to outrun armed robbers
to survive their worst nightmares
to travel four hundred miles without killing each other

All while sharing a very small carriage by day and an even smaller bed by night.

What they don't have time for is their growing attraction. Much less wild passion. And heaven forbid they spend precious hours baring their hearts and souls.

Suddenly one week seems like exactly enough time to find a world of trouble.
And maybe…just maybe…love.
Minerva Highwood is a geologist at a time when it's a forbidden occupation for women. That isn't all that's forbidden to her…Lord Payne also falls into that category. In her mother's estimation, he's reserved for her much nicer, much prettier sister, Diana.
Bespectacled, intelligent, and socially inept Minerva discovers a fossil belonging to an heretofore undiscovered species of giant reptile. Determined to leave her mark on the world, she secretly enlists the aid of Lord Colin Payne to escort her to the Royal Geological Society symposium in Edinburgh, Scotland.
Lord Payne is attracted to Minerva, but he's stuck in this Godforsaken castle until his birthday….or until he marries. Then he can claim and manage his own life. Until that time, he's at the mercy of his cousin, Lord Rycliff. He's also at the mercy of his personal demons.
After witnessing the brutal deaths of his parents at the age of eight, he's haunted by nightmares and the memories of abuse by his fellow classmates.
As a child, Minerva was considered stupid until someone realized she needed glasses. To compensate for years of feeling stupid, she threw herself into books of all kinds completely shutting out the rest of the world.
How can two such emotionally crippled people possibly work together long enough to get to Scotland? It's not easy, but bit by bit, mile by mile, they discover unknown strengths in the other that help offset their own weaknesses. They also discover a weakness for each other.
Tessa Dare is one of my favorite authors. Her characters come alive on the page, displaying all the foibles that make them live and breathe. I caught myself rooting for the unlikely couple to make it to Edinburgh, help each other, and find the love they both deserved. At turns, funny and sad, this is a tale that will have you cheering Minerva and Colin on and hissing the naysayers.
Mona's first grade teacher, Mrs. Stanford, gifted her with the love of reading. For that, she'll always live in her heart. But reading took over Mona's life, eclipsing everything but playing sports, and has continued to be a huge part of her life. Although she has always written poetry and stories for her self, last year she decided to try her hand at writing fiction. She is currently editing her first urban fantasy and hopes to have it ready for the agent by summer's end. Besides reading, Mona loves speed in the form of fast cars. The faster, the better! In her next life, she plans to drive race cars (or whatever happens to be their replacement in the future) all while reading and writing. She has also taken up rune reading, and find it to be disturbingly accurate and exciting.
Doll Mona Leigh