Home » Giveaways, Week in Review, Winners
Week in Review and Winners!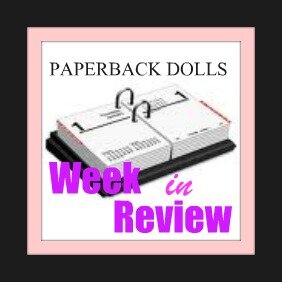 Welcome one and all to the week in review!
Week in Review is when we take a look at the past week and everything that's been going on at Paperbackdolls.com – plus we share what you can expect from the week to comeBut first we have some…

The winner of the SHADOW & BONE giveaway is:
Beth

kyoto.now@..
The winner of the Second Chances giveaway is:
Kelly

delivery.rn@..
The winner of the Bare-Naked Lola giveaway is:
Lauren

laurenedmonds@..
Congratulations! Please email us at pbd.contests@gmail.com to claim your prize!

Last Week on Paperback Dolls…
We had a few internet hiccups on the site last week but thankfully posting is now back to normal!
On Tuesday author Rita Oberlies was here to answer our questions!

On Wednesday Chrissy reviewed Darkness Unbound by Keri Arthur
Being half werewolf and half Aedh, Risa Jones can enter the twilight realms between life and death and see the reapers, supernatural beings that collect the souls of the dead. But she soon makes a terrifying discovery: Some sinister force is stealing souls, preventing the dead from ever knowing the afterlife.

Reapers escort souls—not snatch them—but Risa is still unnerved when a reaper shadows her in search of someone Risa has never met: her own father, an Aedh priest, who is rumored to be tampering with the gates of hell for a dark purpose. With the help of her "aunt"—half-werewolf, half-vampire Riley Jenson—and an Aedh named Lucian who may have lost his wings but none of his sex appeal, Risa must pursue whatever shadowy practitioner of blood magic is seizing souls, and somehow stop her father . . . before all hell breaks loose. READ REVIEW
On Thursday Lil reviewed Rules of Negotiation by Inara Scott
He let her make the rules…

NYC's most eligible bachelor, Brit Bencher, is also known as The Slayer for his reputation in the boardroom…and the bedroom. And he'll do anything to take care of his family, even seduce high-powered corporate attorney Tori Anderson in the hopes of getting her to reveal confidential information about one of her clients. But for the first time in his life, he finds he's falling for a woman.

…and then he started to break them.

After juggling the demands of her career and the stress of caring for her ailing mother, Tori Anderson doesn't have time for relationships—but that doesn't mean she doesn't want to feel like a woman. When Brit offers a no-strings attached fling, it sounds like exactly what she needs. But what will she do when Brit decides he won't take "one night stand" for an answer? When Tori uncovers his lies, will he lose his chance with her forever? READ REVIEW
On Friday author Misa Ramirez was here to take the Paperback Proust…and there's a giveaway! All part of her Bare Naked Lola blog tour!

Finally on Saturday it was time for Noa to share what's on her wishlist!
On My Wishlist a fun weekly event hosted by Cosy Up Book Reviews (originally created by Book Chick City)
Next Week on Paperback Dolls…
On Monday we have an Interview and Giveaway with author Jess Michaels


On Tuesday we have an interview with author Aleah Barley


Then on Wednesday Noa is sharing an ARC review of Tarnished by Karina Cooper!
My name is Cherry St. Croix. Society would claim that I am a well-heeled miss with an unfortunate familial reputation. They've no idea of the truth of it. In my secret world, I hunt down vagrants, thieves . . . and now, a murderer. For a monster stalks London's streets, leaving a trail of mystery and murder below the fog.

Eager for coin to fuel my infatuations, I must decide where my attentions will turn: to my daylight world, where my scientific mind sets me apart from respectable Society, or to the compelling domain of London below. Each has a man who has claimed my time as his—for good or for ill. Though as the corpses pile, and the treacherous waters of Society gossip churn, I am learning that each also has its dangers. One choice will see me cast from polite company . . . the other might just see me dead.
On Thursday Doll Suz is here with an ARC review of Stacia Kane's Chasing Magic!
>Magic-wielding Churchwitch and secret addict Chess Putnam knows better than anyone just how high a price people are willing to pay for a chemical rush. But when someone with money to burn and a penchant for black magic starts tampering with Downside's drug supply, Chess realizes that the unlucky customers are paying with their souls—and taking the innocent with them, as the magic-infused speed compels them to kill in the most gruesome ways possible.

As if the streets weren't scary enough, the looming war between the two men in her life explodes, taking even more casualties and putting Chess squarely in the middle. Downside could become a literal ghost town if Chess doesn't find a way to stop both the war and the dark wave of death-magic, and the only way to do that is to use both her addiction and her power to enter the spell and chase the magic all the way back to its malevolent source. Too bad that doing so will probably kill Chess—if the war doesn't first destroy the man who's become her reason for living.
On Friday Kitt and Noa are here for a Two-Doll ARC review of Scandal Wears Satin by Loretta Chase!
From the Journals of Sophia Noirot: A dress is a weapon. It must dazzle his eye, raise his temperature . . . and empty his purse.

A blue-eyed innocent on the outside and a shark on the inside, dressmaker Sophy Noirot could sell sand to Bedouins. Selling Maison Noirot's beautiful designs to aristocratic ladies is a little harder, especially since a recent family scandal has made an enemy of one of society's fashion leaders. Turning scandal to the shop's advantage requires every iota of Sophy's manipulative skills, leaving her little patience for a big, reckless rakes like the Earl of Longmore. The gorgeous lummox can't keep more than one idea in his head at a time, and his idea is taking off all of Sophy's clothes.

But when Longmore's sister, Noirot's wealthiest, favorite customer, runs away, Sophy can't let him bumble after her on his own. In hot pursuit with the one man who tempts her beyond reason, she finds desire has never slipped on so smoothly . . .
Finally , on Saturday it's Mona's turn to share her wishlist!
On My Wishlist a fun weekly event hosted by Cosy Up Book Reviews (originally created by Book Chick City)
That's it for us this week!
Thanks for stopping by and commenting!
Paperback Dolls is made up of women from different parts of the world, with different backgrounds, different tastes and beliefs that were brought together through a love of reading. We like to think of ourselves as a cyber version of "The View" that focuses on books, authors, and reading. We are proof positive that one common love can unite the most opposite of people and form lasting friendships that introduce other ways of life and perspectives to each other.
Paperback Dolls
Related posts: