Home » Giveaways, Week in Review, Winners
Week in Review and Winners!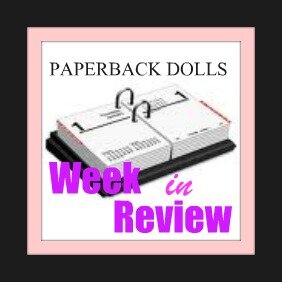 Welcome one and all to the week in review!
Week in Review is when we take a look at the past week and everything that's been going on at Paperbackdolls.com – plus we share what you can expect from the week to come…
So lets get to it!

The winner of the Karen Chance Giveaway (English) is:

Andreat78

andreat78@..
The winner of the Karen Chance Giveaway (German) is:

Symph

chtitegourmande@..
The winner of the Karen Chance Giveaway (French) is:

Aik

aikychien@…
The winner of the Karen Chance Giveaway (Portuguese) is

Andresa Tabanez da Silva

andresats@..
The winner of the Karen Chance Giveaway (Italian) is

Chirumi Chiungu

chocolate.adidas.life@..
The winner of the Smart Chicks Kick It 2011 pre-tour Giveaway is:

SpadesHighReads

bayayrea_munkie@..
Last week at Paperback Dolls…
Stop the presses!

Did you all hear about author and Paperback-Action Figure Anton Strout's new podcast? The Once and Future Podcast had it's first episode on September 11th and guess who was on? our very own Day! (Plus authors Charlaine Harris and Jackie Kessler!) The podcast is available on iTunes and you can find out more about it right here and here
On Monday author Dianne Venetta was here


Read all about it Here
Website
On Tuesday Believer reviewed The Shadow Wolf by Bonnie Vanak

On the run from authorities, gutsy Megan Moraine knows shadow wolves like herself have no place in this world. But she's still prepared to do anything to protect her young charges. That resolve is tested when the trio is captured by Gabriel Robichaux. Everyone knows that Gabriel is a ruthless bounty hunter, a member of an elite group called the Enforcers. Why then is Megan so attracted to her enemy—a wolf who hunts his own people? A wolf whose languid, sexy drawl makes her dream the impossible? Read her review Here
On Wednesday Mona reviewed A Lady's Wish by Katharine Ashe

To the world, Lady Patricia Morgan is a proper lady. But in secret, she yearns for scorching romance with a certain breathtaking gentleman she has never forgotten. They spent one perfect day together, but he disappeared before she could learn his name.

Eight years ago, Captain Nikolas Acton ran off to join the navy so he could forget the mysterious young lady who, after promising him her heart, simply vanished. Now, he has returned to England as a war hero, and is staggered to come face to face with the woman who still possesses his heart . . .
Read her review Here
On Thursday author Jenn LeBlanc was here and there's a giveaway!


Read all about it Here
Website
On Friday Day reviewed Where All the Dead Lie by J.T. Ellison

The shot to the head didn't kill Nashville homicide lieutenant Taylor Jackson. But it will crack her psyche and take her to the very edge.

In her showdown with the murderous Pretender, a bullet taken at close range severed the connection between Taylor's thoughts and speech. Effectively mute, there's no telling if her voice will ever come back. Trapped in silence, she is surrounded by ghosts—of the past, of friendships and trusts lost…of a lost faith in herself and her motives that night.

When Memphis Highsmythe offers Taylor his home in the Scottish Highlands to recuperate, her fiancé can't refuse her excitement, no matter his distrust of the man. At first, Memphis's drafty and singularly romantic castle seems the perfect place for healing. But shortly the house itself surrounds her like a menacing presence. As Taylor's sense of isolation and vulnerability grows, so, too, does her grip on reality.

PTSD. PiLlS. GhOStS. GRuDGES.

Someone or something is coming after Taylor. But is she being haunted by the dead…or hunted by the living? Read her review Here
Finally, Saturday Day reviewed The Body Farm by Patricia Cornwall
Little Emily Steiner left a church meeting late one afternoon and strolled toward home along a lakeside path; a week later, her nude body was discovered, bound in blaze-orange duct tape. Called by the North Carolina authorities, forensic pathologist Kay Scarpetta recognizes similarities to the gruesome work of a serial killer who has long eluded the FBI But as she tries to make sense of the evidence, she is left with questions that lead her to the Body Farm, a little known research facility in Tennessee where, with the help of some grisly experiments, she might discover the answer.

It is Scarpetta alone who can interpret the forensic hieroglyphics that eventually reveal a solution to the case as staggering as it is horrifying. But she must also endeavor to help her niece, Lucy, who is embroiled in controversy at Quantico. And Scarpetta, too, is vulnerable, as she opens herself to the first physical and emotional bond she has felt in far too long a time. Tenacious and brilliant, tender and gentle, this is Scarpetta even more realized and poignant than we've seen her before–in a stunning achievement from a best-selling author at the peak of her powers. Read her review Here
Next Week at Paperback Dolls…
On Monday Noa will be sharing an ARC review of Kristen Painter's Blood Rights
Rebellion has a price…

Born into a life of secrets and service, Chrysabelle's body bears the telltale marks of a comarré — a special race of humans bred to feed vampire nobility. When her patron is murdered, she becomes the prime suspect, which sends her running into the mortal world…and into the arms of Malkolm, an outcast vampire cursed to kill every being from whom he drinks.

Now, Chrysabelle and Malkolm must work together to stop a plot to merge the mortal and supernatural worlds. If they fail, a chaos unlike anything anyone has ever seen will threaten to reign.
On Tuesday Mona will be reviewing A Tale of Two Lovers by Maya Rodale

Lord Simon Roxbury is a godsend to gossip columnists everywhere. This notorious rake has recently been caught in an extremely compromising position by none other than The London Weekly's Lady of Distinction. Rumor also has it that Lord R received an ultimatum: be wed or be penniless.

As A Lady of Distinction, Lady Julianna Somerset typically reports on other people's scandals, but soon she finds herself embroiled in a very public battle with an irate Lord Roxbury – one that leaves her reputation in tatters and her position at The Weekly on the line.

With no other choice available, these two enemies unite in a marriage of convenience to rescue both their reputations and secure his fortune. With their rivals intent on revealing the charade, Lady Julianna and Lord Simon inevitably surrender to temptation. It may just be a love match after all. . . .
On Wednesday Suz will be reviewing Spider's Revenge by Jennifer Estep
Old habits die hard for assassins.
And I plan on murdering someone before the night is through.

Killing used to be my regular gig, after all. Gin Blanco, aka the Spider, assassin-for-hire. And I was very, very good at it. Now, I'm ready to make the one hit that truly matters: Mab Monroe, the dangerous Fire elemental who murdered my family when I was thirteen. Oh, I don't think the mission will be easy, but turns out it's a bit more problematic than expected. The bitch knows I'm coming for her. So now I'm up against the army of lethal bounty hunters Mab hired to track me down. She also put a price on my baby sister's head. Keeping Bria safe is my first priority. Taking Mab out is a close second. Good thing I've got my powerful Ice and Stone magic—and my irresistible lover, Owen Grayson—to watch my back. This battle has been years in the making, and there's a good chance I won't survive. But if I'm going down, then Mab's coming with me . . . no matter what I have to do to make that happen.
On Thursday we have an awesome day! Alli and Steph will be sharing a Two Doll review of Alma Katsu's The Taker
True love can last an eternity . . . but immortality comes at a price. . . .

On the midnight shift at a hospital in rural Maine, Dr. Luke Findley is expecting another quiet evening of frostbite and the occasional domestic dispute. But the minute Lanore McIlvrae—Lanny—walks into his ER, she changes his life forever. A mysterious woman with a past and plenty of dark secrets, Lanny is unlike anyone Luke has ever met. He is inexplicably drawn to her . . . despite the fact that she is a murder suspect with a police escort. And as she begins to tell her story, a story of enduring love and consummate betrayal that transcends time and mortality, Luke finds himself utterly captivated.

Her impassioned account begins at the turn of the nineteenth century in the same small town of St. Andrew, Maine, back when it was a Puritan settlement. Consumed as a child by her love for the son of the town's founder, Lanny will do anything to be with him forever. But the price she pays is steep—an immortal bond that chains her to a terrible fate for all eternity. And now, two centuries later, the key to her healing and her salvation lies with Dr. Luke Findley.

Part historical novel, part supernatural page-turner, The Taker is an unforgettable tale about the power of unrequited love not only to elevate and sustain, but also to blind and ultimately destroy, and how each of us is responsible for finding our own path to redemption.
Then author Alma Katsu herself will be here herself for a special interview!
On Friday Noa will be sharing a review of Silver Shark a novella by Ilona Andrews
Claire Shannon is a killer. She uses no weapons, only her mind.

Born on a planet locked in a long war, Claire is a psycher, a woman with the ability to attack minds and infiltrate a biological computer network where psychers battle to the death. But when the war abruptly ends, Claire must hide her psycher's ability to survive. She is deported to a new planet, a vivid beautiful place, where she meets Venturo Escana, a powerful psycher, whose presence overwhelms both her mind and her body.

She thought she had left war and death behind, but now she must fight for her new life and this battle might just cost her everything…
Finally, on Saturday Lil will be here with a review of Twang by John Schlimm
A novel, former Country Music publicist John Schlimm peels back the industry-crafted clich? of Nashville and its beloved superstars. He takes readers backstage of the sold-out concerts, inside the homes and heads of Nashville's elite, and introduces them to a side of show business that has yet to be revealed. Readers are whisked away on a wild ride to a provocative and quirky place with fictional characters, who seem strikingly familiar, and who will leave the readers shocked, titillated, laughing, and realizing that the real world of Country Music is far more compelling and scandal-ridden than they could ever have imagined.
That's it for us this week! Thanks for stopping by and commenting!
Paperback Dolls is made up of women from different parts of the world, with different backgrounds, different tastes and beliefs that were brought together through a love of reading. We like to think of ourselves as a cyber version of "The View" that focuses on books, authors, and reading. We are proof positive that one common love can unite the most opposite of people and form lasting friendships that introduce other ways of life and perspectives to each other.
Paperback Dolls