Home » Authors, Giveaways, Guest Blog, Guests, Jenn Bennett
Blog Tour Guest Blog and Giveaway: Summoning the Night by Jenn Bennett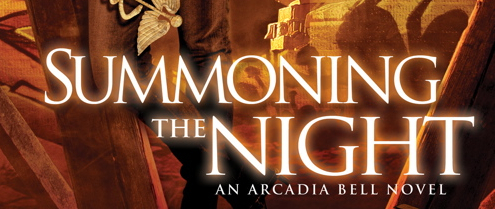 It's a Family Affair
Paranormal beasties. Ass-kicking. Daddy issues. Tragic pasts. Justice. Snark. All are staples of urban fantasy. And though my series touches on many of these things, the underlying theme of all my stories is family.
In the first book of the Arcadia Bell series, KINDLING THE MOON, Cady is on a quest to clear her family's name. Her parents are infamous, accused of slaying the leaders of several occult orders. The public sees them as wicked serial killers, but Cady believes them to be innocent, even after spending most of her adult life apart from them, living under an alias. In order to find what she needs to prove their innocence, Cady teams up with a older man, Lon—a single father of a teenager, who's struggling with his own family issues, which include a messy divorce from a wife bent on self-destruction.
And in book 2, SUMMONING THE NIGHT, Cady and Lon are focused on solving a mystery centered on a villain who is breaking up families, kidnapping local teenagers. Meanwhile, in Cady's personal life, she's struggling to make a new fledgling family with Lon and his son. After living alone for seven years—working late nights in a tiki bar she co-owns with her best friend and thinking of nothing but staying hidden from the police—can she make a place in her life for not one, but two people? Because Lon is wholly dedicated to raising his son. So if Cady wants to be with him, she has to accept his familial baggage.
Of course, my series also has magic, demons, and quirky occult weirdness—it is urban fantasy, after all. (Or, an urban fantasy/paranormal romance hybrid, if you want to get technical about it.) But maybe what makes my series stand out from the rest of the pack, is that, at its heart, it's a story about bonding, loyalty, and people wrestling with the day-to-day challenges of not only holding together the family they already have, but building a new one of their own.
Jenn Bennett is an award-winning visual artist and author of the Arcadia Bell urban fantasy series from Pocket Books. Born in Germany, she's lived and traveled extensively throughout Europe, the U.S., and the Far East. She believes rebellion is an under-appreciated art form, has conjured more demons than you've had hot lunches, and likes her fairy tales like she likes her coffee: dark. She currently lives near Atlanta with her film-geek husband and two very bad pugs.
MAGICAL TRICKS. DEMONIC TREATS.

After narrowly escaping her fate as a sacrificial scapegoat, Arcadia Bell is back to normal. Or at least as ordinary as life can be for a renegade magician and owner of a tiki bar that caters to Earthbound demons. She's gearing up for the busiest day of the year—Halloween—when a vengeful kidnapper paralyzes the community. The influential head of the local Hellfire Club taps Cady to track down the fiendish bogeyman, and now that she's dating red-hot Lon Butler, the club's wayward son, she can hardly say no.

Cady and Lon untangle a gruesome thirty-year trail of clues that points to danger for the club members' children. But locating the person behind the terror will require some metaphysical help from Cady's loyal bar patrons as well as her potent new Moonchild powers—and she'd better figure it out before the final victim disappears and her own darkest secret becomes her biggest enemy.

a Rafflecopter giveaway

Giveaway provided by Jenn Bennett. By entering this giveaway, you are agreeing to the rules set by our Giveaway Policy. Ends 04/28 US/Ca only.
Paperback Dolls is made up of women from different parts of the world, with different backgrounds, different tastes and beliefs that were brought together through a love of reading. We like to think of ourselves as a cyber version of "The View" that focuses on books, authors, and reading. We are proof positive that one common love can unite the most opposite of people and form lasting friendships that introduce other ways of life and perspectives to each other.
Paperback Dolls
Related posts:
Blog Tour Guest Blog: Night Walker by Lisa Kessler