Home » Doll Noa, Meet the Dolls, On My Wishlist, Reviewers
On My Wishlist (#29) Noa
On My Wishlist is a fun weekly event hosted by Cosy Up Book Reviews (originally created by Book Chick City) and runs every Saturday. It's where we list all the books we desperately want but haven't actually bought yet. They can be old, new or forthcoming. It's also an event that you can join in with too – Mr Linky is always at the ready for you to link your own 'On My Wishlist' post.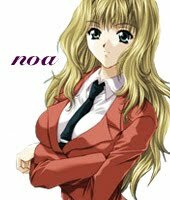 Author:
Book: Rock Chick #1
Release: December 2008
Series: Rock Chick


 
Indy Savage, cop's daughter, rock chick and used bookstore owner, has been in love with Lee Nightingale, once bad boy, now the man behind Nightingale Investigations, since she was five years old. No matter what ingenious schemes Indy used to capture his attention, Lee never showed an interest and Indy finally gave up. Now Indy's employee, Rosie, has lost a bag of diamonds and bad guys are shooting at him. When Indy gets involved, Lee is forced to help. Complicting matters, Lee has decided he's interested, Indy's decided she's not. But she can't seem to keep Lee out of her life when she's repeatedly stun gunned, kidnapped and there are car bombs exploding (not to mention she's finding dead bodies).

Indy's best bet is to solve the mystery of the diamonds before Lee. Lee's challenge is to keep Indy alive and, at the same time, win back her heart.
Author: Tasha Alexander
Book: Death in a Floating City
Release: October 2012
Series: Lady Emily #7


 

 

Years ago, Emily's childhood nemesis, Emma Callum, scandalized polite society when she eloped to Venice with an Italian count. But now her father-in-law lies murdered, and her husband has vanished. There's no one Emma can turn to for help but Emily, who leaves at once with her husband, the dashing Colin Hargreaves, for Venice. There, her investigations take her from opulent palazzi to slums, libraries, and bordellos. Emily soon realizes that to solve the present day crime, she must first unravel a centuries old puzzle. But the past does not give up its secrets easily, especially when these revelations might threaten the interests of some very powerful people
Author: J. D. Robb
Book: Conspiracy in Death
Release: 1999
Series: In Death #8


 
Streetwise cop Eve Dallas and her trusty sidekick Peabody face a methodical killer in this latest addition to the In Death series by J.D. Robb, better known as the bestselling author Nora Roberts.
In the late 21st century, on the streets of New York City, a street sleeper is found murdered, his diseased heart removed with surgical precision. His death would typically drop to the bottom of a list of senseless and inexplicable killings, but Lieutenant Dallas, who "would stand for the dead and the living," is not about to let that happen. When her research uncovers similar crimes in several cities that were dropped under mysterious circumstances, Dallas knows she's facing a killer cruel enough to prey on the weakest in society and powerful enough to conspire an extensive coverup.

To complicate matters further, Dallas faces an equally troubling threat to her career when she's linked to the death of a fellow cop. Now she must fight to restore her good name as well as track down the killer.
So, that's what's on my wishlist this week – what's on yours?
Noa first fell in love with books when she discovered 100 acre wood and its inhabitants. To this day, the last pages of "The House at Pooh Corner" make her cry. In a good way. From"Calvin and Hobbes" to "The Iliad and the Odyssey" and lets not forget "Martha Stewart's Cupcakes". Biographies, mysteries, history books and romances all have a place on her bookshelves. Who needs furniture? This 29 year old singleton's dream is to invent the zero-calorie chocolate. But until that day arrives, she tries to create sweet confections with whatever chocolate she can find. An MA in conflict studies (need a mediator?) means Noa loves a good debate, especially when she wins. If she were in charge, books would be free for everyone.
Doll Noa