Home » Authors, Giveaways, Guest Blog, Guests, Laura Kaye
Blog Tour Guest Blog and Giveaway: West of Want by Laura Kaye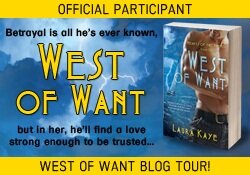 Favorite Things about Writing Paranormal Romance
I'm thrilled to be back at Paperback Dolls today to celebrate the recent release of my Greek-mythology-based romance, West of Want, the second book in my Hearts of the Anemoi series. My first love as a reader has always been paranormal romance, which makes it so much fun to write now. I grew up on Stephen King and Anne Rice, and some of my current favorite paranormal authors include Sherrilyn Kenyon and J.R. Ward. So today, I thought I'd share some of my favorite things about writing paranormal romance: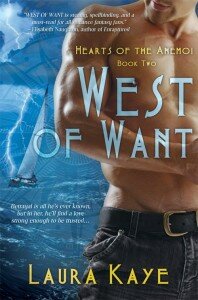 Anything goes. One important reason I love writing paranormal romance is because, really, you can run with whatever your imagination creates—as long as you justify it within the paranormal world you're building. So you can create cool, unique mythologies, rules, and powers. You can run with a known supernatural creature or create an entirely new creature. You can offer a twist on popular creatures like vampires or werewolves to make them all your own. And this is true in playing with Greek mythology in this series—I can take all the drama, and feuds, and power plays in the mythology of the Anemoi and build a world on them. Anything can go in a paranormal romance, and that makes it both challenging and really, really fun to write.
Cool powers. If I'm going to read paranormal romance, I want the awesome supernatural powers that go with it! Mind reading, telekinesis, time and space travel, prophecy, super speed or strength or hearing, and more. I want to imagine what it would be like to possess those powers. And what it would be like to see them in action. The Anemoi can shift between elemental and human forms, travel between earth and the Realm of the Gods, control the wind, weather and nature of the seasons, and even more. All this is the stuff that makes paranormal especially exciting to write!
The danger element. Imagine being around a creature with all those powers, a creature who thought itself superior to you because of them, or a creature whose basic subsistence needs placed your very life in danger. This danger element is part of what makes these characters so attractive and appealing. It's like being attracted to a bad boy, to the 100th power! Plus, if you get two supernatural characters in a feud with one another, the humans they love are bound to get caught in the middle—and that makes for great conflict to write and to read!
The moment of discovery. This might be my favorite part of writing paranormal romance, not to mention reading it. I love watching a character notice something's not right with this other person. I love seeing them grapple with these oddities, explain them away, or begin to question them. And that tension, that mystery, builds and builds until the moment of discovery and revelation when the human realizes this person they're growing to love isn't a person at all. And then how will they react? Will they accept? Reject? Deny? I think this moment is particularly powerful and entertaining because you can imagine yourself into that same situation and wonder how you'd respond, and that's a ton of fun to write.
So, now that you've heard me talk about why I enjoy writing paranormal romance, how about a little taste of my most recent one, West of Want:
"Ella," he groaned and traced the shell of her ear with his tongue. "What do you want? This time, you tell me. I don't want to make any mistakes here, and I"—he swallowed thickly—"I can't…I have to…"
She whimpered. Heart, body and mind aligned, she didn't need to think about it. "In me. Need you in me."
His weight disappeared. Then so did she. For a split-second, her physical self seemed to vanish. And then they were on the bed in her room.
Dazed and awed, she laughed. "What just happened?"
Heavy-lidded eyes traced over her face. "I don't have the patience to act human right now."
"Mmm, I kinda like the sound of that."
"Gods, woman, you are driving me crazy." He sat up, straddling her thighs, and helped her remove her shirt. That flaring light returned in his gaze, and she swore she could feel it drag over her breasts. She bared them to his observation, and he caressed them with light fingertips that made her shiver. "Such exquisite perfection."
Her breaths coming in faster, shallower draws, she grabbed the hem of his damp shirt. "So, you can move us with your mind, but can't remove our clothes? Not an all-powerful god, then?"
Biting the inside of her lip to restrain the threatening smile, she looked up at him with what she hoped was innocence.
He blinked once and the cotton disappeared from her fingers. "Are you questioning my godhood?"
Mouth gaping, Ella dragged her gaze down Zeph's completely naked body. She couldn't restrain her huge grin. "Not…um, not anymore."
Thank you so much for reading! How about a GIVEAWAY?!: Share what you most enjoy reading about paranormal romance, or a favorite line from the excerpt, and enter to win a paperback copy of West of Want! Must leave email address to be eligible. Open to international! Good luck!
Don't miss the (thru 8/24) giveaway events, too!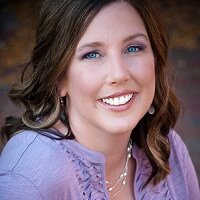 Voted Breakout Author of the Year in the 2011 GraveTells Readers' Choice Awards, Laura is the bestselling and award-winning author of over a half-dozen books in paranormal, contemporary and erotic romance. Hearts in Darkness is the EPIC eBook Award Winner for Best Novella and HOLT Medallion Award of Merit Winner for Best Romance Novella, Forever Freed is the NJRW Golden Leaf Winner for Best Paranormal of 2011 and is a finalist for two GDRWA Booksellers' Best Awards, and North of Need, the first book in the Hearts of the Anemoi series, is a finalist for a FF&P PRISM award, was named GraveTells' Best Book of 2011 and won their 5-STAR Gold Heart Award, and won Sizzling Hot Read of the Year at Sizzling Hot Books. Laura lives in Maryland with her husband, two daughters, and cute-but-bad dog, and appreciates her view of the Chesapeake Bay every day.
Website | | | | Newsletter SignUp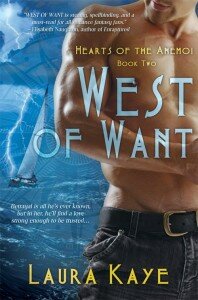 Hearts of the Anemoi, Book Two

Releasing Soon from Entangled Publishing

Betrayal is all he's ever known, but in her, he'll find a love strong enough to be trusted…

When Marcella Raines' twin brother dies, she honors his request to be buried at sea, never expecting the violent storm that swamps her boat. Though she's gravely injured–and still emotionally damaged from her recent divorce–Ella fights to survive.

Zephyros Martius is the Supreme God of the West Wind and Spring, but being the strongest Anemoi hasn't protected him from betrayal and loss. Worse, he's sure his brother Eurus is behind it. When Zeph's heartbreak whips up a storm that shipwrecks a human, his guilt forces him to save her.

Ella is drawn to the vulnerability Zeph hides beneath his otherworldly masculinity and ancient blue eyes. And her honesty, empathy, and unique, calming influence leave Zeph wanting…everything. When Eurus threatens Ella, she and Zeph struggle to let go of the past, defend their future, and embrace what they most want–a love that can be trusted.
Giveaway provided by Laura Kaye. By entering this giveaway, you are agreeing to the rules set by our Giveaway Policy. Ends 08/04 INTERNATIONAL.
Paperback Dolls is made up of women from different parts of the world, with different backgrounds, different tastes and beliefs that were brought together through a love of reading. We like to think of ourselves as a cyber version of "The View" that focuses on books, authors, and reading. We are proof positive that one common love can unite the most opposite of people and form lasting friendships that introduce other ways of life and perspectives to each other.
Paperback Dolls