Home » Articles, Features, Giveaways, Guests, News, Reviewers, Week in Review, Winners
Week in Review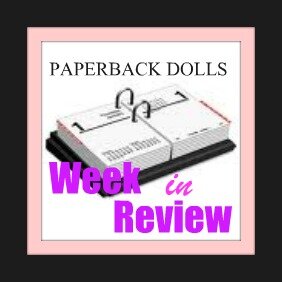 Welcome one and all to the week in review!
Week in Review is when we take a look at the past week and everything that's been going on at Paperbackdolls.com – plus we share what you can expect from the week to come…
Last Week on Paperback Dolls…
On Monday Teresa visited with a review of House Rules by Chloe Neill

In a city full of vampires, trouble never sleeps.

At the tender age of 27, Merit became a sword-wielding vampire. Since then, she's become the protector of her House, watched Chicago nearly burn to the ground, and seen her Master fall and rise. Now she'll see her mettle—and her metal —tested like never before.

It started with two . . . Two rogues vanishing without a trace. Someone is targeting Chicago's vampires, and anyone could be next. With their house in peril, Merit and her Master, the centuries old Ethan Sullivan, must race to stop the disappearances. But as they untangle a web of secret alliances and ancient evils, they realize their foe is more familiar, and more powerful, than they could have ever imagined. READ REVIEW
On Tuesday Lil reviewed One Night with a Cowboy
One Sweet Ride…
Oh yeah. A single look at the leggy blonde in the stands and Tucker Jenkins is ready to buck all night long. It's time to forget all about his cheating ex and his usual hands off policy.
One Hot Night…
Becca Hart is an East Coast professor. Not a buckle bunny. But no degree can prepare her for the moves of the sexy bull rider she hooks up with at her first rodeo…or the shock of finding him at her first Oklahoma State University staff meeting.

One Happy Ending…
Tuck knows it's all about holding on, no matter how wild the ride. Now he just has to convince Becca that a rough start out of the chute doesn't mean they aren't a smokin' combination… READ REVIEW
Then on Wednesday Chrissy reviewed Darkness Rising
The sexy, thrilling adventures continue in bestselling author Keri Arthur's new Dark Angels series, starring half-werewolf/half-Aedh Risa Jones.

Risa will go to any lengths to avenge her mother's murder—even if it means making a pact with the most evil vampire she's ever met. Lethal and powerful, Madeline Hunter is leader of the vampire council, and will put her resources behind finding the killer—for a price. The venerable vampire requires the assistance of Risa's psychic powers. Quid pro quo.

Someone—or something—is targeting the elders of the local council, cursing the immortal vampires to rapidly age, sink into madness, and die. Risa must track down the vengeful being responsible. But Risa's father, a rogue Aedh priest, also enlists her in a dangerous mission. And not even the great Madeline Hunter may be able to protect her from the shadowy forces that desire nothing less than Risa's destruction. READ REVIEW
On Thursday Believer reviewed The Billionaire Bad Boys Club by Emma Holly

Self-made billionaires Zane and Trey have been a club of two since they were eighteen. They've done everything together: play football, fall in love, even get smacked around by their dads. The only thing they haven't tried is seducing the same woman.

Rebecca learned early on not to trust anyone. She raised her brothers by herself—with no adult being the wiser. Her knack for cooking kept a roof over the twins' heads. Now she's damned if it won't pay their way through Harvard as well. Add in running Trey's latest restaurant, and her plate is way too full for romance.

That's an attitude the bad boys intend to change. Zane and Trey have set their sights on the sexy chef. When their hearts enter the equation and they both fall for her, this committed twosome faces their hardest test of all!

Adult-content rating: This book contains content considered unsuitable for young readers 17 and under, and which may be offensive to some readers of all ages. READ REVIEW
Finally on Friday Mona shared an ARC review of When Love Comes to Town

With a new introduction by James Klise

First US Edition!
25th Anniversary

The year is 1990, and in his hometown of Dublin, Ireland, Neil Byrne plays rugby, keeps up with the in-crowd at his school, and is just a regular guy. A guy who's gay. It's a secret he keeps from the wider world as he explores the city at night and struggles to figure out how to reveal his real self–and to whom.

First published in Ireland in 1993 and compared to The Catcher in the Rye by critics, Tom Lennon's When Loves Comes to Town is told with honesty, humor, and originality. READ REVIEW
Next Week on Paperback Dolls…
On Monday Mona is here with a review of the novella Double Crossed by Ally Carter

Macey McHenry—Glamorous society girl or spy-in-training?

W.W. Hale V—Heir to an American dynasty or master thief?

There are two sides to every coin. Whether these two can work together is a tossup.

Born into privilege, Macey and Hale are experts at mingling with the upper class. But even if they've never raised an eyebrow at the glitz, neither teenager has ever felt at home with the glamour.

When Macey and Hale meet at a society gala, the party takes a dangerous turn. Suddenly they're at the center of a hostage situation, and it's up to them to stop the thugs from becoming hostile. Will Macey's spy skills and Hale's con-man ways be enough to outsmart a ruthless gang? Or will they have to seek out the ultimate inside girl to help?

The worlds of Heist Society and the Gallagher Girls collide in Ally Carter's fast-paced, high-stakes and tantalizing new story. Get a behind the scenes glimpse as Ally delivers an irresistible thriller that is full of her signature style and savvy twists.
On Tuesday Noa is here with an ARC review of A Conspiracy of Alchemists by Liesel Schwarz

LEAVE IT TO CHANCE. Eleanor "Elle" Chance, that is—the intrepid heroine of this edgy new series that transforms elements of urban fantasy, historical adventure, and paranormal romance into pure storytelling gold.

In a Golden Age where spark reactors power the airways, and creatures of Light and Shadow walk openly among us, a deadly game of Alchemists and Warlocks has begun.

When an unusual cargo drags airship-pilot Elle Chance into the affairs of the mysterious Mr. Marsh, she must confront her destiny and do everything in her power to stop the Alchemists from unleashing a magical apocalypse.
Then on Wednesday and Thursday Chrissy is here with Reviews of Gathering Blue and Messenger by Lois Lowry

In her strongest work to date, Lois Lowry once again creates a mysterious but plausible future world. It is a society ruled by savagery and deceit that shuns and discards the weak. Left orphaned and physically flawed, young Kira faces a frightening, uncertain future. Blessed with an almost magical talent that keeps her alive, she struggles with ever broadening responsibilities in her quest for truth, discovering things that will change her life forever.

As she did in The Giver, Lowry challenges readers to imagine what our world could become, and what will be considered valuable. Every reader will be taken by Kira's plight and will long ponder her haunting world and the hope for the future.

Lois Lowry's Messenger continues the quartet beginning with the quintessential dystopian novel, The Giver, and Gathering Blue, followed by Son.

For the past six years, Matty has lived in Village and flourished under the guidance of Seer, a blind man, known for his special sight. Village was a place that welcomed newcomers, but something sinister has seeped into Village and the people have voted to close it to outsiders. Matty has been invaluable as a messenger. Now he must make one last journey through the treacherous forest with his only weapon, a power he unexpectedly discovers within himself.
Finally on Friday, Believer is here with an ARC review of Along Came Trouble by Ruthie Knox

An accomplished lawyer and driven single mother, Ellen Callahan isn't looking for any help. She's doing just fine on her own. So Ellen's more than a little peeved when her brother, an international pop star, hires a security guard to protect her from a prying press that will stop at nothing to dig up dirt on him. But when the tanned and toned Caleb Clark shows up at her door, Ellen might just have to plead the fifth.

Back home after a deployment in Iraq and looking for work as a civilian, Caleb signs on as Ellen's bodyguard. After combat in the hot desert sun, this job should be a breeze. But guarding the willful beauty is harder than he imagined—and Caleb can't resist the temptation to mix business with pleasure. With their desires growing more undeniable by the day, Ellen and Caleb give in to an evening of steamy passion. But will they ever be able to share more than just a one-night stand?
That's it for us this week!
Thanks for stopping by and commenting!
Paperback Dolls is made up of women from different parts of the world, with different backgrounds, different tastes and beliefs that were brought together through a love of reading. We like to think of ourselves as a cyber version of "The View" that focuses on books, authors, and reading. We are proof positive that one common love can unite the most opposite of people and form lasting friendships that introduce other ways of life and perspectives to each other.
Paperback Dolls