Home » Authors, Features, Guest Blog, Guests, Scott Nicholson, Zombie Week
Zombie Week! Guest Blog: Scott Nicholson
Slow Zombies Forever
By Scott Nicholson
My first-ever zombie movie turned out to be the one that's still my favorite. What I liked best about The Night of the Living Dead is that—like the zombies themselves—it started out relentless and never let up.
Since then, I've remained a fan of the slow zombie, because I admire the sheer persistence of the living dead. It's the inevitably of the end that delivers the dread. It's hard to feel that sense of dread when the zombies are darting around like alien insects in a video game, or when the zombies are intelligent and have guns and explosives. That's why zombies in my ebook collection Zombie Bits are slow.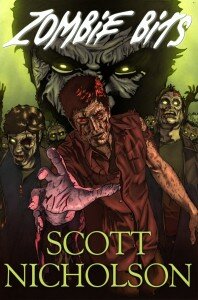 People a lot smarter than me have explored why zombies are metaphors about the Other living inside each of us, the flip side of what it means to be human. So all I can add is what I love about zombies: They always get you. They have every advantage in the world. They are immune to most typical types of harm, aside from the bullet to the brain or immolation. They have time on their side, as well as numbers. Their needs are not complicated by morality.

They live for one purpose, and that is to eat you. And that's why I'm fine with slow zombies—not just because slowness ensures I may get to draw a few more breaths before the horror of getting my guts ripped out. It means I really can't escape, but it looks like I may have a chance. Because I can outrun these guys, right?
Except they only have one job. The slow zombie is going to win, and it's not going to stop as long as there is one scrap of living flesh left on the hoof. Watching their crawling, staggering approach and hearing the ghoulish moans as they surround you is much more frightening than sudden death.
Slow zombies always give you time to scream. HAPPY HALLOWEEN!
Scott Nicholson is author of more than 30 books, including the bestsellers Liquid Fear, The Red Church, and Disintegration. Connect with Scott on , , LibraryThing, , , website or
Paperback Dolls is made up of women from different parts of the world, with different backgrounds, different tastes and beliefs that were brought together through a love of reading. We like to think of ourselves as a cyber version of "The View" that focuses on books, authors, and reading. We are proof positive that one common love can unite the most opposite of people and form lasting friendships that introduce other ways of life and perspectives to each other.
Paperback Dolls