Home » Doll Alli, Thankful Feature, Uncategorized
Doll Alli shares what she's thankful for and a delicious healthy recipe!
Submitted by Doll Alli on November 20, 2011 – 8:45 am
4 Comments

I can't believe it's Thanksgiving already! I have so much to be thankful for this year. I have the most amazing family and friends. Without them I would be a fraction of the person I am today. I have an amazing husband who, despite seemingly trying to get under my skin at every chance he gets, makes my life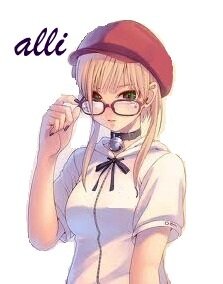 so. much. better. I'm thankful that I'm gainfully employed at a job that I enjoy and that my work will someday make the world a better place. I'm thankful that I have the two best dogs in the world (Pushing it? I know, I know).
Lastly, I'm thankful for the new adventure that I will begin sometime in the New Year. There are so many things I'm thankful for but I feel like if I keep rambling on, the music will start playing like at the Oscars and the black cane will come and yank me away from my computer…but I digress!
As much as I love the Thanksgiving, it makes me sad that I can't enjoy the finer foods that it has to offer. As a person with dietary restrictions, it's hard to say no to those apple and pumpkin pies, dinner rolls, and mashed potatoes. So I constantly try to find recipes that make living the low carb lifestyle easier. One recipe that I will share with you is one that my husband absolutely loves and those who don't eat artificial sweeteners will be none the wiser! I originally stumbled upon this recipe in a Splenda cookbook, but adapted it to fit my own needs. Feel free to try to mix it up for whatever you like! Here's my recipe for Frozen Chocolate Cheesecakes.
Whip Cream:
1 ½ cups whipped heavy cream
1 Teaspoon of vanilla
Sweeten with granulated Splenda, Stevia, or sugar (if you must!) until desired sweetness is achieved
Cheesecake:
12 Ginger Snaps
1 oz brick of cream cheese (We use full fat, but you can use lower fat if you want)
2 Tablespoons of cold water
4 Teaspoons of unsweetened cocoa powder (We use Ghirardelli)
1 Teaspoon of vanilla
¼ Teaspoon ground cinnamon
½ Cup of granulated Splenda
1 Cup of various fruit (optional)
Assembly:
1)   Line 12 muffin cups with paper liners. Place 1 ginger snap in each paper cup and set aside
2)   Mix cream cheese, water, unsweetened cocoa powder, vanilla, ground cinnamon, and Splenda until well blended
3)   Gently stir in the whip cream
4)   Spoon evenly over gingersnaps. Top each cheesecake with optional fruit.
5)   Cover and freezer night for at least 3 hours or overnight. This is the hardest part of the recipe! [husband edit: waiting is not required!]
6)   Remove from freezer. Allow to soften slightly before serving.
7) Enjoy!!
Could you seriously wait 3 hours for this? I don't think so!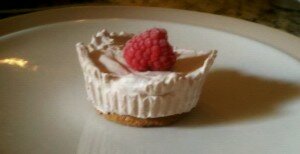 Alli has always been a lover of books. Her mom even has a photograph of her sleeping curled up in a book rack as a young child. From reading R.L. Stein's Fear Street books as a young teen to reading just about anything and everything these days, her love for great stories has never ceased. She even thought to pursue her love of books with an English degree in college, but decided science was more of her forte. She currently resides in Georgia with her husband, her Boston Terrier (Maddie), and two fluffy cats (Chummy, Lulu) where she works as a research scientist. When her nose isn't in a book, she enjoys anything outdoorsy and running races/ triathlons in her spare time.
Doll Alli