Home » Doll Lil, Features, Interviews, Meet the Dolls, Paperback Proust, Reviewers
Get to Know… Doll Lil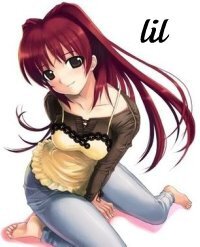 Lil is an avid reader who gave up TV so she could greedily read every book she could get her hands on. In the process she discovered a love for contemporary romance heavily laden with humor. Lil is formerly a True Blood blogger who discovered there is more to the world than her annoying love/hate one-sided relationship with the writers of TB. She credits JR Ward for pulling her from the two dimensional world of TV viewing. True.

Lil also fancies herself a writer when she's not working, reading, raising her kids, and married to her very own Alpha Male. Lil discovered a love of writing very early on in her grade school years and thanks to some very observant teachers throughout her later education she was able to cultivate that love into a full time obsession. After a unsuccessful year in community college Lil stopped writing. Disheartened she started watching ER and Friends. She continued to deny her love of writing and reading for several years.

She credits her love of horses and contemporary women writers, like Ward, Rachel Gibson, and Susan Elizabeth Phillips for reawakening her passion for writing. Lil began writing again in 2004 to raise awareness for Equine Welfare and ending the slaughter of our American horses. After five years in the trenches Lil took an extended break from the rescue world. Lil then took a stab at Fan Fiction and discovered yes her inner world of characters still wanted to play, so in her spare time Lil is now working on her first original manuscript. To bad most of her spare time is taken up by sleeping & bathing.

*Lil is also an avid horse lover and would like to introduce everyone to her local rescue. Pure Thoughts Inc. is based in Palm Beach County but has saved horses from all over North America ( also an orphan goat, a sheep, and a couple cows to boot) Www.pthr.org
WHAT IS YOUR GREATEST FEAR?
Not living up to my potential because I'm afraid to get passed my fears.
WHAT IS YOUR CURRENT STATE OF MIND?
To tired to have a state of mind I think
WHAT IS YOUR FAVORITE OCCUPATION?(WAY OF SPENDING TIME)
I don't think I have one favorite. I love reading. Adore it actually so I guess I'll pick reading.
WHAT HISTORICAL FIGURE DO YOU MOST IDENTIFY WITH?
The first person who comes to mind is Wild Horse Annie.
WHICH LIVING PERSON DO YOU MOST ADMIRE?
I can't narrow it down to just one person. I tried. I have sat and thought about it for the last half hour. I think right now I most admire anyone who can multi-task, a skill I struggle with on a daily basis.
WHO IS YOUR FAVORITE FICTIONAL HERO?
I'm not sure I've met him yet. Wait hold on! I did meet him! Hardy Cates in Blue Eyed Devil by Lisa Kleypas

WHO ARE YOUR REAL-LIFE HEROES?
Every man and woman who has signed up to the Armed Forces, especially the ones who continue to keep their commitment to their nation when politics dictate their job description.
WHAT IS YOUR MOST TREASURED POSSESSION?
My wedding ring.
WHEN AND WHERE WERE YOU HAPPIEST?
Sunrise on Butterfield Lake in Redwood, NY in late July. Must haves to make it perfect….are my camera, coffee, my fishing pole, and Mike.
WHAT IS YOUR MOST OBVIOUS CHARACTERISTIC?
My height, at 5′ 1/8″ I'm barely tall enough to get on The Hulk……
WHAT IS THE TRAIT YOU MOST DEPLORE (HATE) IN YOURSELF?
stubbornness
WHAT IS THE TRAIT YOU MOST DEPLORE IN OTHERS?
overacting
WHAT IS YOUR GREATEST EXTRAVAGANCE?
Books and Izze
WHAT IS YOUR FAVORITE JOURNEY?
The one my daughters are on. It's damn fascinating.
WHAT DO YOU MOST DISLIKE ABOUT YOUR APPEARANCE?
My cuteness. I'll never be considered beautiful or sexy. Just yesterday I was mistaken for my husband's daughter. I'm convinced it's because I'm short and have this darn button nose.
WHAT DO YOU CONSIDER THE MOST OVER-RATED VIRTUE?
Patience
ON WHAT OCCASION DO YOU LIE?
I am so pleading the fifth on this one.
WHICH WORDS OR PHRASES DO YOU MOST OVER-USE?
Really? Really?
IF YOU COULD CHANGE ONE THING ABOUT YOURSELF, WHAT WOULD IT BE?
Not to be wound so damn tight.
WHAT DO YOU CONSIDER YOUR GREATEST ACHIEVEMENT?
In spite of everything the ability to hope.
WHERE WOULD YOU LIKE TO LIVE?
On a farm next to the ocean by the mountains where I can have autumn but it only snows the week of Christmas and every Sunday it rains while I laze in bed.
WHAT IS THE QUALITY YOU MOST ADMIRE IN A MAN?
Heft
WHAT IS THE QUALITY YOU MOST ADMIRE IN A WOMAN?
Right now? I can't think of one.
WHAT IS IT YOU MOST DISLIKE?
Gossip
WHAT DO YOU VALUE MOST IN YOUR FRIENDS?
To tell me the truth
HOW WOULD YOU LIKE TO DIE?
Complete
IF YOU WERE TO DIE AND COME BACK AS A PERSON OR AN ANIMAL, WHAT DO YOU THINK IT WOULD BE?
A Jackass……
IF YOU COULD CHOOSE AN OBJECT TO COME BACK AS, WHAT WOULD YOU CHOOSE?
A paddle
WHAT IS YOUR MOTTO (WORDS YOU LIVE BY OR THAT MEAN A LOT TO YOU)?
" Be a best friend, tell the truth
And overuse I love you
Go to work, do your best
Don't outsmart your commonsense
Never let your prayin' knees get lazy
And love like crazy" If it sounds familiar it's because its Lee Brice's song Love Like Crazy.
WHO HAS BEEN THE GREATEST INFLUENCE ON YOU?
Writers
Lil is an avid reader who gave up TV so she could greedily read every book she could get her hands on. In the process she discovered a love for contemporary romance heavily laden with humor. Lil is formerly a True Blood blogger who discovered there is more to the world than her annoying love/hate one-sided relationship with the writers of TB. She credits JR Ward for pulling her from the two dimensional world of TV viewing.
Doll Lil