Home » Authors, Features, Giveaways, Guest Blog, Guests, Jennifer Haymore, Month of Love
Month of Love Guest Blog and Giveaway: Secrets of an Accidental Duchess by Jennifer Haymore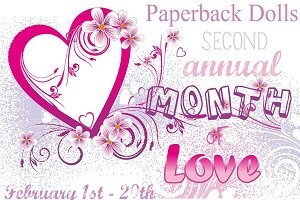 Everyone please welcome Jennifer to Paperback Dolls! Jennifer is visiting us on her blog tour for her new novel, Secrets of an Accidental Duchess, the second novel in her Donovan series released this past Tuesday! To learn more about Jennifer Haymore and her works, please visit her website here. To learn more about Month of Love and who is visiting you can go here.
---
The Joy of Scandal…
Scandals….ahhh…aren't they fun? Tiger Woods, Mel Gibson, Lindsay Lohan, Charlie Sheen. Just saying those celebrities' names sparks memories of the scandals that have surrounded them. And this isn't a new phenomenon. People thrived on scandal even back in the 1820's and 1830's (the time period in which my Donovan series is written).
So, why do we love scandal so much? I'm thinking it's not because we're a nation full of bored people that get our kicks out of watching someone fly off the deep end, get into a huge amount of trouble, or sleep with everyone who passes by. I'm thinking it's because we all have a secret part of ourselves we keep locked up and under control, and that part is pure, 100% scandal. So when we hear about Ashton Kutcher's alleged unfaithfulness to Demi Moore, a part of us stands to attention. In essence, most of us keep our stiff upper lip and hold on to our respectability and even-keeled behaviors, but when we hear about a scandal, we live vicariously through the people involved. And we all love happy endings. I think that while we inhale these stories, we always hope for some happy resolution. Wouldn't it be grand if Ashton saw the error in his ways and went rushing to Demi's bedside, fell on his knees, and begged her to be with him forever? Ah well, a girl can dream….
There are scandals in every one of my books. Why? Because I love them, and the readers seem to love them too. In my latest book, SECRETS OF AN ACCIDENTAL DUCHESS, the main scandal is more of a "private" one, because the heroine, Olivia, is very, very good at keeping secrets. But still, we have an abusive marquis, an indecent proposition in a ballroom, slipping into a gentleman's bedchamber at night, a jealous duke…Oh, the list goes on! Best of all, I love that I am a romance writer, and that it's my job to turn scandals that could turn into horrible nightmares into happily ever afters.
What about you? Why do you think we love scandals so much, and what is it about them that keeps us coming back for more?
Jennifer Haymore grew up on the Big Island of Hawaii, where she surfed, learned how to fly airplanes, raced bicycles, and developed a love for sailing. She was an avid reader and completely destroyed her eyesight by sneaking a flashlight under her covers and reading far into the nights — making her mother wonder why on earth she couldn't get up for school in the mornings…

Jennifer holds a bachelor's degree in Computer Science from UC Berkeley and a master's degree in Education from UCLA. Before she became a full-time writer she held various jobs from bookselling to teaching inner-city children to playing bit roles in soap operas.

You can find Jennifer in Southern California trying to talk her husband into yet another trip to England, helping her three children with homework while brainstorming a new five-minute dinner menu, or crouched in a corner of the local bookstore writing her next novel.

Serena Donovan left London six years ago, her heart broken and her reputation ruined by devilishly handsome Jonathan Dane. Now, with her family's future in peril, she reluctantly agrees to return to England and assume her late twin's identity. The price? Marry a man she doesn't love and spend the rest of her days living a lie.

Jonathan Dane, Earl of Stratford, has become an incorrigible rake, drinking, gambling-and trying to forget Serena Donovan. Yet the moment he's introduced to the prim and proper "Meg," he recognizes the sensual young woman who captured his heart. Haunted by his past mistakes, he refuses to lose Serena again. But convincing her to trust him is no easy task. Claiming his lost love means exposing the truth and destroying the life Serena has sacrificed everything to rebuild. With the future of all the Donovans at stake, and their undying passion capable of triggering yet another scandal, how much will Jonathan and Serena risk for a chance at true love?
With her pale hair and slim figure, Olivia Donovan looks as fragile as fine china, and has been treated as such by her sisters ever since a childhood bout with malaria. But beneath her delicate facade, Olivia guards a bold, independent spirit and the kind of passionate desires proper young ladies must never confess…

It was a reckless wager, and one Max couldn't resist: seduce the alluring Olivia or forfeit part of his fortune. Yet the wild, soon-to-be Duke never imagined he'd fall in love with this innocent beauty. Nor could he have guessed that a dangerously unpredictable rival would set out to destroy them both. Now, Max must beat a Madman at his own twisted game-or forever lose the only woman to have ever won his heart.
Paperback Dolls is made up of women from different parts of the world, with different backgrounds, different tastes and beliefs that were brought together through a love of reading. We like to think of ourselves as a cyber version of "The View" that focuses on books, authors, and reading. We are proof positive that one common love can unite the most opposite of people and form lasting friendships that introduce other ways of life and perspectives to each other.
Paperback Dolls
Related posts: