Home » Authors, Blog Hop, Features, Jill Shalvis
Author Jill Shalvis's Lucky In Love Blog Hop!
Jill Shalvis has stopped by to answer a few questions!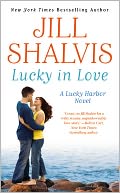 Mallory Quinn has had enough of playing it safe. As a nurse and devoted daughter, she takes care of everyone but herself. And as the local good girl, she's expected to date Mr. Right. But for once, she'd like to take a risk on Mr. Wrong. And who could be more wrong than Ty Garrison? The mysterious new guy in town has made it clear that he's only passing through, which suits Mallory just fine. Besides, his lean, hard body and sexy smile will give her plenty to remember once he's gone . . .
For the first time in his life, Ty can't bear to leave. Helping this sexy seductress-in-training walk on the wild side is making him desire things he shouldn't including leaving the military for good. As their just-for-fun fling becomes something more, Mallory and Ty wonder if they could really be this lucky in love. After all . . . anything can happen in a town called Lucky Harbor.
Lil: How much does real life inspire your writing?
Jill: Real life, books, TV, movies, friends, family … I'm a sponge and it all inspires me.
Lil: So far which Lucky Harbor book has been the most fun to write?
Jill: LUCKY IN LOVE was pretty fun. I enjoyed watching badass ex Navy SEAL Ty Garrison fall for sweet, warm Mallory Quinn while doing his damnedest not to.
Lil: Are you as funny in real life as you are on the pages of your books?
Jill: Ha. You'd have to ask my family but I have a feeling that no, I'm not quite as amusing to deal with in real life.
Thanks for stopping by Jill! I really appreciate you taking time out to stop by and visit with the Dolls.
Lucky In Love is available now. Read my review here
Up next for Jill is the next in the Lucky Harbor series, At Last, will be available on June 26th. I personally can't wait I'm in love with this small town and it's laugh-out-loud residents, the sexy men who keep me enthralled, and the women who fall for them!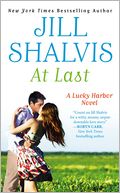 HER LOVE HAS COME ALONG . . .
Amy Michaels loves her new life in Lucky Harbor. A waitress in the local diner, she's looking forward to her first weekend hike through the mountains. But when a wrong turn takes her off the trail, she finds herself up close and personal with forest ranger Matt Bowers. And even though she's tempted to kiss that sexy smile right off his face, she won't make the mistake of getting involved with the town heartthrob.

A former cop whose life went south, Matt doesn't let anyone get too close. But something about the feisty beauty caught his eye the moment he first saw her in the diner. After a hot night under a starry sky, Matt can't deny their attraction-or the fact that for the first time in a long time, he feels the stirrings of something more. Now it's up to Matt to help Amy see that, no matter what is in their past, together they can build a future in Lucky Harbor.
Paperback Dolls is made up of women from different parts of the world, with different backgrounds, different tastes and beliefs that were brought together through a love of reading. We like to think of ourselves as a cyber version of "The View" that focuses on books, authors, and reading. We are proof positive that one common love can unite the most opposite of people and form lasting friendships that introduce other ways of life and perspectives to each other.
Paperback Dolls