Home » Authors, Doll Lil, Jill Shalvis, Reviewers, Reviews
ARC Review: Lucky In Love by Jill Shalvis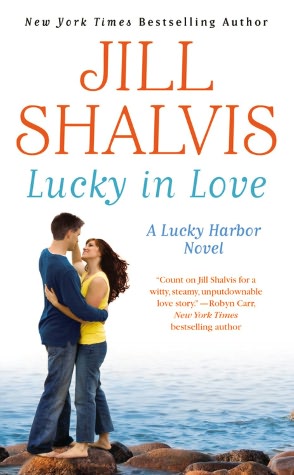 Author: Jill Shalvis
Title: Lucky in Love
Release Date: May 22, 2012
Series: Lucky Harbor 4
Reviewer: Lil
Source: Grand Central Publishing
Purchase: | Barnes & Noble

'Mallory Quinn has had enough of playing it safe. As a nurse and devoted daughter, she takes care of everyone but herself. And as the local good girl, she's expected to date Mr. Right. But for once, she'd like to take a risk on Mr. Wrong. And who could be more wrong than Ty Garrison? The mysterious new guy in town has made it clear that he's only passing through, which suits Mallory just fine. Besides, his lean, hard body and sexy smile will give her plenty to remember once he's gone . . .

For the first time in his life, Ty can't bear to leave. Helping this sexy seductress-in-training walk on the wild side is making him desire things he shouldn't including leaving the military for good. As their just-for-fun fling becomes something more, Mallory and Ty wonder if they could really be this lucky in love. After all . . . anything can happen in a town called Lucky Harbor.'
I am trying to not go all fan-girl right now but it's really hard. Why you ask? Because lately I've read some books that have been a major disappointment and thanks to Ms. Shalvis my faith was restored in Contemporary Romance. I do love me some naughtiness between the sheets or on a couch or up against the railing at the pier… *sigh* Oh Sorry where was I? But what I really want is a story I can get lost in. I want characters I feel connected too and a world I would at least love to visit.
I fell in love with Ty Garrison. He's a bit of a smart ass, he says the sexiest things, his dark layers are yummy, and he is another reason I wish I lived in Lucky Harbor. Yeah he has some issues, he's a former SEAL who went through some pretty dark stuff but he hasn't stopped living. He just feels guilty about it. It's an honest emotion many veterans feel and it is conveyed in LIL in a realistic manner.
Mallory Quinn is someone many women can relate too. She has work goals, a slightly crazy family, and an addiction to chocolate. She also is having trouble hanging on to her Mr. Rights. Ms. Quinn is a likable girl. And I have to tell you I've recently been unhappy with more than one female lead. It was refreshing not to have to yell that the woman on the page.
Shalvis has not let this series get repetitive or boring and I know sometimes I have had issue with other authors and their series telling me the same story over and over and over again. Annoying, right? Thankfully Jill has filled this small town chuck full of interesting and complex characters that will keep you wanting more. I'm already pacing around waiting for At Last and I have a TBR that needs some attention. Jill Shalvis is a storyteller who can make you laugh and rev your engine all on the same page. I appreciate a well-written book that can keep me entertained from beginning to end but when a book keeps me from sleeping because I can't put it down, well let's just say it ruins me for lesser books.
This book isn't hit-me-over-the-head-with-fluffy-love-and-all-things-rainbows but it's also not my usual angst addict fest. Lucky In Love doesn't insist the reader suspend reality to like the story or understand it. In any work fiction there is a level of that probably wouldn't happen in the real life but I am a strong believer unless it's part of the genre the book falls under we shouldn't have to have to force ourselves to ignore impossibilities. I am an even bigger believer in, we as readers, shouldn't have to ignore poor editing! Reading shouldn't feel like work whether your reading for pleasure or to review it, I want to be entertained and find my happy place in the pages of the book.
Lucky In Love helped me find my happy place… several times.
Lil is an avid reader who gave up TV so she could greedily read every book she could get her hands on. In the process she discovered a love for contemporary romance heavily laden with humor. Lil is formerly a True Blood blogger who discovered there is more to the world than her annoying love/hate one-sided relationship with the writers of TB. She credits JR Ward for pulling her from the two dimensional world of TV viewing.
Doll Lil