Home » Articles, Giveaways, News, Week in Review, Winners
Week in Review and Winner!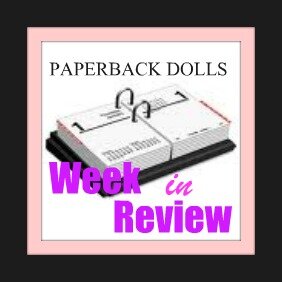 Welcome one and all to the week in review!
Week in Review is when we take a look at the past week and everything that's been going on at Paperbackdolls.com – plus we share what you can expect from the week to come…
But first we have some…

The winner of the Jill Shalvis Thanksgiving Giveaway is:
  Donna Simmonds

   bacchus76@..
Congratulations! Please email us at to claim your prize!
Good luck!

Last Week on Paperback Dolls…
On Monday Mona was here with a review of The Marriage Mistake by Jennifer Probst

Gray, since she was a teenager. Now she's earned her MBA and come to work at Michael's new venture, America's fastest-growing bakery empire. But some things never change: her family still treats her like a child. With three drop-dead gorgeous siblings, she's still the ugly duckling of the bunch. And Max, the company's new CEO, still barely notices her.

Max knows Carina Conte is strictly off limits. But hot-blooded lust wins out at a conference when the two share a scorching one-night stand—and are busted by her mother! Now, forced by old-world Italian tradition into a marriage he's not ready for, Max is miserable—and Carina is furious. Her new husband is about to realize that hell hath no fury like a woman transformed… READ REVIEW
On Tuesday Noa shared an ARC review of Jim Butcher's Cold Days (Dresden Files #14)

HARRY DRESDEN LIVES!!!

After being murdered by a mystery assailant, navigating his way through the realm between life and death, and being brought back to the mortal world, Harry realizes that maybe death wasn't all that bad. Because he is no longer Harry Dresden, Chicago's only professional wizard.

He is now Harry Dresden, Winter Knight to Mab, the Queen of Air and Darkness. After Harry had no choice but to swear his fealty, Mab wasn't about to let something as petty as death steal away the prize she had sought for so long. And now, her word is his command, no matter what she wants him to do, no matter where she wants him to go, and no matter who she wants him to kill.

Guess which Mab wants first?

Of course, it won't be an ordinary, everyday assassination. Mab wants her newest minion to pull off the impossible: kill an immortal. No problem there, right? And to make matters worse, there exists a growing threat to an unfathomable source of magic that could land Harry in the sort of trouble that will make death look like a holiday.

Beset by enemies new and old, Harry must gather his friends and allies, prevent the annihilation of countless innocents, and find a way out of his eternal subservience before his newfound powers claim the only thing he has left to call his own…

His soul. READ REVIEW
On Wednesday Chrissy was here with an Over 18′s only review of Saving Sunni by Kasi Alexander

Jessie Chambers—"Sunni" needs to grow up; Sunni goes to the local goth/kink store, The Fringe Element, and is immediately embraced by its quirky owner as the newest member of her "little family." But almost immediately things start to get complicated. Sunni's ex shows up, claiming he's found God and that God wants them to get back together. A video of Sunni and Sir Rune doing a scene at the club winds up on television and all kinds of trouble ensues. Sunni must figure out a way to restore her relationships, keep her master from getting deported, take over running the store, and stop everybody else from trying to "save Sunni." READ REVIEW
On Thursday Eowyn was here with a review of Days of Blood and Starlight by Laini Taylor

Once upon a time, an angel and a devil fell in love and dared to imagine a world free of bloodshed and war.

This is not that world.

Art student and monster's apprentice Karou finally has the answers she has always sought. She knows who she is—and what she is. But with this knowledge comes another truth she would give anything to undo: She loved the enemy and he betrayed her, and a world suffered for it.

In this stunning sequel to the highly acclaimed Daughter of Smoke & Bone, Karou must decide how far she'll go to avenge her people. Filled with heartbreak and beauty, secrets and impossible choices, Days of Blood & Starlight finds Karou and Akiva on opposing sides as an age-old war stirs back to life.

While Karou and her allies build a monstrous army in a land of dust and starlight, Akiva wages a different sort of battle: a battle for redemption. For hope.

But can any hope be salvaged from the ashes of their broken dream? READ REVIEW
On Friday Noa reviewed Silent Night – a novella by Deanna Raybourn

'Tis the season for an investigation! Lady Julia and Nicholas Brisbane return for a Christmas caper at Bellmont Abbey—.

After a year of marriage—and numerous adventures—Lady Julia and Brisbane hope for a quiet, intimate Christmas together—until they find themselves at her father's ancestral estate, Bellmont Abbey, with her eccentric family and a menagerie of animals.

Nevertheless, Julia looks forward to a lively family gathering—but amongst the celebrations, a mystery stirs. There are missing jewels, new faces at the Abbey, and a prowling ghost that brings back unwelcome memories from a previous holiday—one that turned deadly. Is a new culprit recreating crimes of the past? And will Brisbane let Julia investigate—? READ REVIEW
Finally on Saturday On My Wishlist was back!This time with Doll Eowyn!

On My Wishlist a fun weekly event hosted by Cosy Up Book Reviews
Next Week on Paperback Dolls…
On Monday Mona reviews The Prince by Tiffany Reisz

Keep your friends close and your enemies closer…preferably in bed. That's always been Kingsley Edge's strategy with his associate, the notorious New York dominatrix Nora Sutherlin. But with Nora away in Kentucky, now it's Kingsley's chance to take her place at the feet of the only man he's ever wanted — Søren, Nora's on-again, off-again lover — until a new threat from an old enemy forces him to confront his past.

Wes Railey is still the object of Nora's tamest yet most maddening fantasies, and the one man she can't forget. He's young. He's wonderful. He's also thoroughbred royalty and she's in "his" world now. But Nora is no simpering Southern belle, and her dream of fitting into Wesley's world is perpetually at odds with her dear Søren's relentlessly seductive pull.

Two worlds of wealth and passion call to her and whichever one Nora chooses, it will be the hardest decision she will ever have to make… unless someone makes it for her…
On Tuesday Chrissy is here with her Over 18′s only review of Texas Winter by R.J. Scott

Riley's past comes back to haunt him both professionally and personally.

His dead brother left more than just bitter memories for Riley to deal with. The FBI get involved and suddenly it is more than his good name that is on the line. Jack is always there for him but how much more can Riley's husband reasonably be able to understand?

Especially when Riley finds out on his delayed honeymoon that he has an eight year old daughter he never knew existed…
On Wednesday Chrissy's back with a review of In God We Trust All Others Pay Cash by Jean Shepherd

A beloved, bestselling classic of humorous and nostalgic Americana, reissued in a strikingly designed paperback edition.

Before Garrison Keillor and Spalding Gray there was Jean Shepherd: a master monologist and writer who spun the materials of his all-American childhood into immensely resonant–and utterly hilarious–works of comic art. In God We Trust: All Others Pay Cash represents one of the peaks of his achievement, a compound of irony, affection, and perfect detail that speaks across generations.

In God We Trust, Shepherd's wildly witty reunion with his Indiana hometown, disproves the adage "You can never go back." Bending the ear of Flick, his childhood-buddy-turned-bartender, Shepherd recalls passionately his genuine Red Ryder BB gun, confesses adolescent failure in the arms of Junie Jo Prewitt, and relives a story of man against fish that not even Hemingway could rival. From pop art to the World's Fair, Shepherd's subjects speak with a universal irony and are deeply and unabashedly grounded in American Midwestern life, together rendering a wonderfully nostalgic impression of a more innocent era when life was good, fun was clean, and station wagons roamed the earth.

A comic genius who bridged the gap between James Thurber and David Sedaris, Shepherd may have accomplished for Holden, Indiana, what Mark Twain did for Hannibal, Missouri.

Then on Thursday Believer shares a review of the Hexed anthology


Four of the bestselling names in romance and fantasy come together in this collection of thrilling novellas featuring powerful women who know how to handle a hex or two.

And on Friday Mona is here to share some of her Young Adult genre picks!

Finally on Saturday On My Wishlist is back!


On My Wishlist a fun weekly event hosted by Cosy Up Book Reviews

That's it for us this week!
Thanks for stopping by and commenting!
Paperback Dolls is made up of women from different parts of the world, with different backgrounds, different tastes and beliefs that were brought together through a love of reading. We like to think of ourselves as a cyber version of "The View" that focuses on books, authors, and reading. We are proof positive that one common love can unite the most opposite of people and form lasting friendships that introduce other ways of life and perspectives to each other.
Paperback Dolls