Home » Articles, Giveaways, Guests, News, Week in Review, Winners
Week in Review and Winner!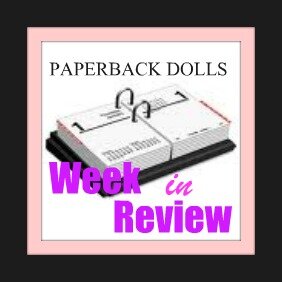 Welcome one and all to the week in review!
Week in Review is when we take a look at the past week and everything that's been going on at Paperbackdolls.com – plus we share what you can expect from the week to come…
But first we have some…

The winner of the Sourcebooks prize pack of Olivia's books Backstage Pass, Rock Hard and Double Time – to one lucky PBD follower! (US & Canada only) is….
Alyssa Chen

   alyssaxchen14@..
Congratulations! Please email us at to claim your prize!
Good luck!
Last Week on Paperback Dolls…
On Monday Mona was here with a review of Losing It by Cora Carmack

Virginity.

Bliss Edwards is about to graduate from college and still has hers. Sick of being the only virgin among her friends, she decides the best way to deal with the problem is to lose it as quickly and simply as possible– a one-night stand. But her plan turns out to be anything but simple when she freaks out and leaves a gorgeous guy alone and naked in her bed with an excuse that no one with half-a-brain would ever believe. And as if if that weren't embarrassing enough, when she arrives for her first class of her last college semester, she recognizes her new theatre professor. She'd left him naked in her bed about 8 hours earlier. READ REVIEW
On Tuesday Chrissy was here with a review of Fire and Ice by Erin Hunter

Fireheart could hear a roaring around him, like wind in tall trees. The acrid stench of the Thunderpath stung his nostrils, together with a new smell, sharper and more terrifying. Fire!

Book Two of WARRIORS continues Fireheart's quest to be a true warrior, when he finds new danger lurking in the woods as the chill of winter sets in.

WindClan is missing, and hostilities between the remaining three clans place all the cats in peril. Illness and tragic accidents weaken the camp, and ThunderClan needs all its warriors to defent itself – but Fireheart suspects that certain cats may not be as loyal as they appear. READ REVIEW
Then on Wednesday Lil shared an ARC review of Beach House No. 9 by Christie Ridgway

When book doctor Jane Pearson arrives at Griffin Lowell's beach house, she expects a brooding loner. After all, his agent hired her to help the reclusive war journalist write his stalled memoir. Instead, Jane finds a tanned, ocean-blue-eyed man in a Hawaiian shirt, hosting a beach party and surrounded by beauties. Faster than he can untie a bikini top, Griffin lets Jane know he doesn't want her. But she desperately needs this job and digs her toes in the sand.

Griffin intends to spend the coming weeks at Beach House No. 9 taking refuge from his painful memories-and from the primly sexy book doctor who wants to bare his soul. But warm nights, moonlit walks and sultry kisses just may unlock both their guarded hearts….READ REVIEW
On Thursday Mona was back with an ARC review of Taming Her Forbidden Earl by Catherine Hemmerling

Everyone knows William Bredon, the earl of Pembroke, has a reputation as a captivating rogue, determined to never marry until his duty to produce an heir requires it. So when he invites Lady Hannah Rochester to dance, Hannah vows to keep her distance. But the undeniably gorgeous William, with his dark humor and seductive gaze, draws her in nonetheless.

Of course, Lady Hannah is not completely what she seems, either. A member of the dowager Lady Lancaster's Garden Society, she secretly spends her days solving mysteries and uncovering intrigues, and when she brings William into the fold, a sinister plot develops that brings the two closer together. William's protective nature ensures he remains by Hannah's side, but he will not surrender his anti-marriage stance.

Can intrigue, passion, and maybe even a little bit of scandal reform the most notorious of rakes?READ REVIEW
Then on Friday we revealed the winner of our Olivia Cunning Sinners on Tour Hot Ticket Giveaway!

and then Suz shared an ARC review of Double Time and Hot Ticket…
Next Week on Paperback Dolls…
On Monday the Dolls are celebrating the 200th anniversary of one of the most read and loved romances of all time – Pride and Prejudice!
Then on Tuesday Mona reviews Taking Chances by Molly McAdams

Eighteen year old Harper has grown up under her career Marine of a father's thumb. Ready to live life her own way and experience things she's only ever heard of from the jarheads in her father's unit; she's on her way to college at San Diego State University.

Thanks to her new roommate, Harper is introduced to a world of parties, gorgeous guys, family and emotions. Some she wasn't expecting yet, and others she never knew she was missing.

She finds herself being torn in two as she quickly falls in love with her boyfriend Brandon, and her roommate's brother Chase. Covered in tattoos, known for fighting in the Underground and ridiculously muscled…they're exactly what she was always warned to stay away from, but just what she needs. Despite their dangerous looks and histories, both adore and would do anything for Harper, including stepping back if it means she's happy.

Her first year away is turning out to be near perfect, but one weekend of giving in to heated passion will change everything.
Then on Wednesday Believer is here with a review of The Queen's Vow by C. W. Gortner

No one believed I was destined for greatness.

So begins Isabella's story, in this evocative, vividly imagined novel about one of history's most famous and controversial queens—the warrior who united a fractured country, the champion of the faith whose reign gave rise to the Inquisition, and the visionary who sent Columbus to discover a New World. Acclaimed author C. W. Gortner envisages the turbulent early years of a woman whose mythic rise to power would go on to transform a monarchy, a nation, and the world.

Young Isabella is barely a teenager when she and her brother are taken from their mother's home to live under the watchful eye of their half-brother, King Enrique, and his sultry, conniving queen. There, Isabella is thrust into danger when she becomes an unwitting pawn in a plot to dethrone Enrique. Suspected of treason and held captive, she treads a perilous path, torn between loyalties, until at age seventeen she suddenly finds herself heiress of Castile, the largest kingdom in Spain. Plunged into a deadly conflict to secure her crown, she is determined to wed the one man she loves yet who is forbidden to her—Fernando, prince of Aragon.

As they unite their two realms under "one crown, one country, one faith," Isabella and Fernando face an impoverished Spain beset by enemies. With the future of her throne at stake, Isabella resists the zealous demands of the inquisitor Torquemada even as she is seduced by the dreams of an enigmatic navigator named Columbus. But when the Moors of the southern domain of Granada declare war, a violent, treacherous battle against an ancient adversary erupts, one that will test all of Isabella's resolve, her courage, and her tenacious belief in her destiny.
On Thursday Mona is back with a review of Speechless by Hannah Harrington

Everyone knows that Chelsea Knot can't keep a secret

Until now. Because the last secret she shared turned her into a social outcast—and nearly got someone killed.

Now Chelsea has taken a vow of silence—to learn to keep her mouth shut, and to stop hurting anyone else. And if she thinks keeping secrets is hard, not speaking up when she's ignored, ridiculed and even attacked is worse.

But there's strength in silence, and in the new friends who are, shockingly, coming her way—people she never noticed before; a boy she might even fall for. If only her new friends can forgive what she's done. If only she can forgive herself.
On Friday Noa is here with an ARC review of India Black and the Shadows of Anarchy by Carol K. Carr

In Victorian London, India Black has all the attributes a high-class madam needs to run a successful brothel–wit, beauty, and an ability to lie with a smile. Luckily for Her Majesty's Government, all these talents also make her a first-rate spy…

India Black, full-time madam and occasional secret agent, is feeling restless, when one of Disraeli's men calls on her to meet the prime minister–alone. Even though all her previous meetings have been organized by the rakishly handsome spy French, it's been decided this is a mission India must attempt on her own.

Revolt has spread across Europe and reached the shores of England–anarchists have begun assassinating lords and earls, one by one. Now India must infiltrate the ranks of the underground group responsible for those attacks, the sinister Dark Legion. To stop their dread plot, India will go from the murkiest slums of London to the highest levels of society, uncovering secrets that threaten her very existence…
Finally, on Saturday – On My Wishlist is back!
On My Wishlist a fun weekly event hosted by Cosy Up Book Reviews
That's it for us this week!
Thanks for stopping by and commenting!
Paperback Dolls is made up of women from different parts of the world, with different backgrounds, different tastes and beliefs that were brought together through a love of reading. We like to think of ourselves as a cyber version of "The View" that focuses on books, authors, and reading. We are proof positive that one common love can unite the most opposite of people and form lasting friendships that introduce other ways of life and perspectives to each other.
Paperback Dolls