Home » Articles, Doll Mona Leigh, Features, Holiday, Reviewers, Year In Review
Doll Mona Leigh's most anticipated books of 2013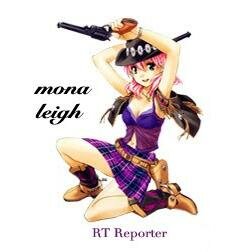 To be perfectly honest, there's no way I could compile a list of all the books I'm waiting for in 2013, so what I've done is choose some that will be out fairly soon.
Since I'm a huge Patricia Briggs fan, I can't wait to get my hot little hands on the next Mercy Thompson book, . Next on my list is (Bloodlines) by Richelle Mead; (Blue Bloods) by Melissa DeLaCruz; by a new favorite, Michelle Gagnon; by Julie Anne Long; and by J.R. Ward.
by my friend Leigh Evans will hit the shelves soon, and I can't wait. It's always exciting when an aspiring author I've commiserated with at RT sells their novel. It's as if we've all succeeded.
After sitting in on an RT panel listening to Kelly Armstrong and Melissa Marr discuss their collaboration efforts, I'm looking forward to reading their offering, .
A couple of books that I once thought I'd be excited over, but have unfortunately lost interest in, are by Aimeé Carter and the latest by Laurell K Hamilton. For some reason, both of these series have simply exhausted me, and I can't seem to find the enthusiasm or curiosity needed to enjoy them. Perhaps later, but right now, there are too many others I anticipate.
Happy reading in 2013!
Mona's first grade teacher, Mrs. Stanford, gifted her with the love of reading. For that, she'll always live in her heart. But reading took over Mona's life, eclipsing everything but playing sports, and has continued to be a huge part of her life. Although she has always written poetry and stories for her self, last year she decided to try her hand at writing fiction. She is currently editing her first urban fantasy and hopes to have it ready for the agent by summer's end. Besides reading, Mona loves speed in the form of fast cars. The faster, the better! In her next life, she plans to drive race cars (or whatever happens to be their replacement in the future) all while reading and writing. She has also taken up rune reading, and find it to be disturbingly accurate and exciting.
Doll Mona Leigh