Home » Articles, Giveaways, Guests, News, Reviews, Week in Review, Winners
Week in Review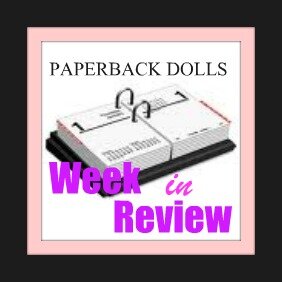 Welcome one and all to the week in review!
Week in Review is when we take a look at the past week and everything that's been going on at Paperbackdolls.com – plus we share what you can expect from the week to come…
Last Week on Paperback Dolls…
On Monday Believer was here with a review of Saving Grace by Pamela Hutchins

Katie Connell is a high-strung attorney whose sloppy drinking habits and stunted love life collide hilariously in a doomed celebrity case in Dallas. When she flees Texas for the Caribbean, Katie escapes professional humiliation, a broken heart, and a wicked Bloody Mary habit, but she trades one set of problems for another when she begins to investigate the suspicious deaths of her parents on the island of St. Marcos. She's bewitched by the voodoo spirit of an abandoned house in the rainforest and discovers that she's as much a danger to herself as the island's bad guys are. As the worst of her worlds collide, Katie drags herself back to the courthouse to defend her new friend Ava, an island local accused of stabbing the senator she's been sleeping with. READ REVIEW
Then on Tuesday Doll Mona was here with an ARC review of Immortal Ever After by Lynsay Sands

A kiss doesn't mean eternity . . .

Valerie Moyer doesn't believe in vampires—until she is kidnapped by a fanged psychopath! After escaping her bloodthirsty captor, she's through with creatures of the night. Until she finds herself under the protection of the darkly handsome Anders. Not only is she expected to accept that Anders is immortal, but also that she is the woman destined to be his life mate!

. . . Or does it?

Anders felt a connection to Valerie from the moment he cradled her bruised body in his arms. But before he claims her, he must destroy the vampire who almost stole her from him forever. His job would be easier if Valerie didn't fight him every step of the way. Still, Anders loves a challenge, and the green-eyed beauty is worth fighting for! READ REVIEW
On Wednesday Mona shared a review of How to Get Over Your Ex by Nikki Logan

After her on-air proposal is turned down by her commitment-phobe boyfriend, Georgia Stone must learn to survive singledom. Unfortunately, thanks to a clause in her contract, she has to do it under the watchful gaze of brooding radio producer Zander Rush. And so begins the Year of Georgia! Lurching from salsa classes to spy school, Georgia discovers a taste for adventure. Her biggest thrill so far? Flirting with danger-aka the enigmatic Zander. But admitting she's ready for more than just a fling…? Definitely Georgia's scariest challenge yet! READ REVIEW
On Thursday Believer was back for a Valentines review of How to Misbehave by Ruthie Knox

What woman can resist a hot man in a hard hat? Beloved author Ruthie Knox kicks off her new Camelot series with this deliciously sexy original novella, in which a good girl learns how to misbehave . . . with all her heart.

As program director for the Camelot Community Center, Amber Clark knows how to keep her cool. That is, until a sudden tornado warning forces her to take shelter in a darkened basement with a hunk of man whose sex appeal green lights her every fantasy. With a voice that would melt chocolate, he asks her if she is okay. Now she's hot all over and wondering: How does a girl make a move?

Building contractor Tony Mazzara was just looking to escape nature's fury. Instead, he finds himself all tangled up with lovely Amber. Sweet and sexy, she's ready to unleash her wild side. Their mutual desire reaches a fever pitch and creates a storm of its own—unexpected, powerful, and unforgettable. But is it bigger than Tony can handle? Can he let go of painful memories and let the force of this remarkable woman show him a future he never dreamed existed? READ REVIEW
And on Friday Doll Eowyn was here with a review of Inescapable by Amy Bartol

My name is Evie Claremont and this was to be the making of me–my freshman year of college. I had been hoping that once I had arrived on Crestwood's campus, the nightmare that I've been having would go away. It hasn't.

I may be an inexperienced seventeen-year-old, but I'm grounded…sane. Since meeting sophomore Reed Wellington, however, nothing makes any sense. Whenever he is near, I feel an attraction to him–a magnetic kind of force pulling me towards him. I know what you're thinking…that sounds fairly awesome. Yeah, it would–if he liked me, but Reed acts as if I'm the worst thing that's ever happened to Crestwood…or him. But, get this, for some reason every time I turn around he's there, barging into my life.

What is the secret he is keeping from me? I'm hoping that it is anything but what I expect: that he is not exactly normal…and neither am I. So maybe Crestwood won't be the making of me, but it could be the breaking of me. I have been left to wonder if the dark future my dream is foretelling is…inescapable. READ REVIEW
Next Week on Paperback Dolls…
On Monday Believer is here with a review of The House by Charlie Daye

Aria De La Vega lived a pretty mundane life until she inherited the house.

After arriving at the house, nestled in the Blue Ridge Mountains of North Carolina, Aria meets the man of her dreams, finds the house is haunted, is attacked by a ghost, learns about the Native American curse that has plagued the land the house sits on for more than 130 years and discovers that she is the key to undoing it all. And that is only the first 48 hours.

With help of her two best friends, Melissa, a formidable attorney out of California and Amy, the granddaughter of a Cherokee medicine woman, Aria will decipher the curse, battle an unseen force bent on destroying her, deal with the painful stab of deceit and wager everything to save herself and the man she loves.
On Tuesday Lil is here with an ARC review of The Best Man by Kristan Higgins

Faith Holland left her hometown after being jilted at the altar. Now a little older and wiser, she's ready to return to the Blue Heron Winery, her family's vineyard, to confront the ghosts of her past, and maybe enjoy a glass of red. After all, there's some great scenery there….

Like Levi Cooper, the local police chief-and best friend of her former fiancé. There's a lot about Levi that Faith never noticed, and it's not just those deep green eyes. The only catch is she's having a hard time forgetting that he helped ruin her wedding all those years ago. If she can find a minute amidst all her family drama to stop and smell the rosÉ, she just might find a reason to stay at Blue Heron, and finish that walk…
Then on Wednesday Teresa visits with a review of Ever After by Kim Harrison
The ever after, the demonic realm that parallels the human world, is shrinking. If it disappears completely, so does all magic. It's up to witch-turned-daywalking-demon Rachel Morgan to avert catastrophe and keep life from changing… for the worse.

While saving the world is important, it isn't Rachel's only motivation. There's also the small fact that she caused the ley line to rip in the first place, setting off a chain reaction of unfortunate events. That little mistake has made her life forfeit unless she can fix it. It's also made her more than a few enemies, including the most powerful demon in the ever after—a terrifying entity who eats souls and now has an insatiable appetite for her. He's already kidnapped her friend and goddaughter to lure her out, and if Rachel doesn't give herself up soon, they'll die.

But Rachel has more than a few impressive and frightening skills of her own, and she isn't going to hand over her soul and her life without one hell of a fight. She's also got a surprise: elven tycoon Trent Kalamack. With this unlikely ally beside her—a prospect both thrilling and unnerving—she's going to return to the ever after, kick some demon butt, rescue her loved ones… and prevent an apocalypse before it's too late. Or, at least that's the plan…
On Thursday Believer is back with a review of Stone Cold Revenge by Jess Macallan

Forced by her maniacal father, the king of the shadow elves, to live in his house and train to become his heir, newly minted princess of the paranormal Elleodora Fredricks doesn't think things could get much more complicated. On the outs with her gargoyle love interest, Jax, and confused about her relationship with her childhood sweetheart, MacLean the phoenix, Elle knows her fate decrees that her powers will manifest themselves in full on her twenty-eighth birthday, which is quickly approaching…

With help from two long-lost family members, some long-forgotten memories, and even her long-gone mother, Elle discovers there's more to being part shadow elf than she ever knew. But will she be able to harness her unique abilities in time to take revenge on her enemies? For Elle, it's all in a day's work
And Finally on Friday Noa is here with an ARC review of What Darkness Brings by C.S. Harris
The death of a notorious London diamond merchant draws aristocratic investigator Sebastian St. Cyr and his new wife Hero into a sordid world of greed, desperation, and the occult, when the husband of Sebastian's former lover Kat Boleyn is accused of the murder.

Regency England, September 1812: After a long night spent dealing with the tragic death of a former military comrade, a heart-sick Sebastian learns of a new calamity: Russell Yates, the dashing, one-time privateer who married Kat a year ago, has been found standing over the corpse of Benjamin Eisler, a wealthy gem dealer. Yates insists he is innocent, but he will surely hang unless Sebastian can unmask the real killer.

For the sake of Kat, the woman he once loved and lost, Sebastian plunges into a treacherous circle of intrigue. Although Eisler's clients included the Prince Regent and the Emperor Napoleon, he was a despicable man with many enemies and a number of dangerous, well-kept secrets—including a passion for arcane texts and black magic. Central to the case is a magnificent blue diamond, believed to have once formed part of the French crown jewels, which disappeared on the night of Eisler's death. As Sebastian traces the diamond's ownership, he uncovers links that implicate an eccentric, powerful financier named Hope and stretch back into the darkest days of the French Revolution.

When the killer grows ever more desperate and vicious, Sebastian finds his new marriage to Hero tested by the shadows of his first love, especially when he begins to suspect that Kat is keeping secrets of her own. And as matters rise to a crisis, Sebastian must face a bitter truth–that he has been less than open with the fearless woman who is now his wife.
That's it for us this week!
Thanks for stopping by and commenting!
Paperback Dolls is made up of women from different parts of the world, with different backgrounds, different tastes and beliefs that were brought together through a love of reading. We like to think of ourselves as a cyber version of "The View" that focuses on books, authors, and reading. We are proof positive that one common love can unite the most opposite of people and form lasting friendships that introduce other ways of life and perspectives to each other.
Paperback Dolls