Home » Giveaways, Guests, Week in Review, Winners
Week in Review and Winners!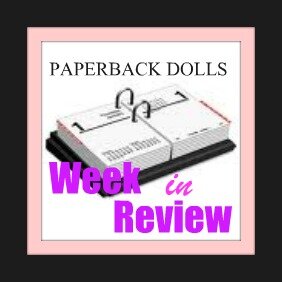 Welcome one and all to the week in review!
Week in Review is when we take a look at the past week and everything that's been going on at Paperbackdolls.com – plus we share what you can expect from the week to come…
But first we have some…

The winner of Kira Brady Hearts of Darkness giveaway is:
 Eli!

  eli_y83@..
The winner of the Shifting Price of Prey by Suzanne McLeod giveaway is:
 Carin!

mawmom@..
Congratulations! Please email us at to claim your prize!

Last Week on Paperback Dolls…
On Monday Noa reviewed Imperial Scandal by Teresa Grant

Amid the treachery of war and the whirl of revelry, no one is what they seem. . .
Nights filled with lavish balls. . .lush, bucolic afternoons. . .. Removed to glamorous Brussels in the wake of Napoleon's escape from Elba, Intelligence Agent Malcolm Rannoch and his wife, Suzanne, warily partake in the country's pleasures. But with the Congress of Vienna in chaos and the Duke of Wellington preparing for battle, the festivities are cut short when Malcolm is sent on a perilous mission that unravels a murderous world of espionage. . .

No one knows what the demure and respectable Lady Julia Ashton was doing at the château where Malcolm and a fellow British spy were ambushed. But now her enigmatic life has been ended by an equally mysterious death. And as the conflict with Napoleon marches toward Waterloo, and Brussels surrenders to bedlam, Suzanne and Malcolm will be plunged into the search for the truth–revealing an intricate labyrinth of sinister secrets and betrayal within which no one can be trusted. . . READ REVIEW
On Tuesday Mona reviewed Pushing the Limits by Katie McGarry

"I won't tell anyone, Echo. I promise." Noah tucked a curl behind my ear. It had been so long since someone touched me like he did. Why did it have to be Noah Hutchins? His dark brown eyes shifted to my covered arms. "You didn't do that-did you? It was done to you?" No one ever asked that question. They stared. They whispered. They laughed. But they never asked.

So wrong for each other…and yet so right.

No one knows what happened the night Echo Emerson went from popular girl with jock boyfriend to gossiped-about outsider with "freaky" scars on her arms. Even Echo can't remember the whole truth of that horrible night. All she knows is that she wants everything to go back to normal. But when Noah Hutchins, the smoking-hot, girl-using loner in the black leather jacket, explodes into her life with his tough attitude and surprising understanding, Echo's world shifts in ways she could never have imagined. They should have nothing in common. And with the secrets they both keep, being together is pretty much impossible.Yet the crazy attraction between them refuses to go away. And Echo has to ask herself just how far they can push the limits and what she'll risk for the one guy who might teach her how to love again. READ REVIEW
On Wednesday author Suzanne McLeod was here on her blog tour with an interview and giveaway!

Read more Here
On Thursday we had a review of the Wild Princess by Mary Hart Perry

The Wild Princess transports us back to Victorian England and plunges us into the intrigues of the royal court, where the impetuous Louise brazenly followed no one's rules but her own–even marrying a commoner, which no one of royal blood had done in the previous three centuries. Filled with rich period deal, The Wild Princess is an exciting, enthralling read. The Tudors have gotten the lion's share of attention in historical fiction; it's high time Queen Victoria and her family got their due. READ REVIEW
On Friday Kitt shared an ARC review of Crooked Fang by Carrie Clevenger

Sometimes a vampire's past can bite him in the ass.

Xan Marcelles–bassist for Crooked Fang, vampire and full-time asshole, is content with his quiet existence in the backwoods of Pinecliffe, Colorado. But life at the Pale Rider tavern is set to become a little more complicated when he gets entangled with a feisty, blue-haired damsel and her abusive soon-to-be ex boyfriend.

To add to his woes, he's gone from hunter to hunted, and his past returns to haunt him when a phone call draws him back to New Mexico. With the help of friends from his living past, he must get to the bottom of a murder, and figure out where he stands with his lover and his band, all while keeping one step ahead of his enemies. Hiding won't be easy for him, especially with a mysterious woman dogging him every step of the way. READ REVIEW
Finally on Saturday it was time for the On My Wishlist feature – this week with Noa and Chrissy!

On My Wishlist a fun weekly event hosted by Cosy Up Book Reviews
Next Week on Paperback Dolls…
On Monday author Jennifer Estep is here on her Widow's web blog tour!

On Tuesday Chrissy is here with her over 18s reviews – this week two anthologies edited by Alison Tyler
First it's G is for Games

Feeling lucky? Games of skill and games of chance are rife with sexual possibilities. The back-and-forth pull of competition, the clever feint that lets your opponent think he's got the upper hand, the thrill of risking everything on a sudden, bold gambit, the visceral charge of raking in a pile of chips, and then, of course, there's something to be said for cheating… From light-hearted party games to devilishly simple competitions, here are stories for readers who love to play.
Then it's H is for Hardcore

"I don't want nice and clean," Alison Tyler writes, "I want hot and fast. Dark and dirty. I want hardcore." These writers deliver with stories that locate that special intensity that elevates sex from ordinary to hardcore. In Radcylffe's "Sweet No More" a young dyke visits a sex club for the first time hoping to finally live out her private fantasies, only to discover a playmate who offers possibilities she never imagined. And in Jean Roberta's "In the Hold" what starts as a bit of frivolous role play for Amy and her married lover veers into dangerous territory when his wife arrives to claim what's hers.
On Wednesday author Jamie Mcguire is here for an interview and giveaway!

Then Mona reviews Jamie Mcguire's Beautiful Disasters
k">
The new Abby Abernathy is a good girl. She doesn't drink or swear, and she has the appropriate percentage of cardigans in her wardrobe. Abby believes she has enough distance between her and the darkness of her past, but when she arrives at college with her best friend, her path to a new beginning is quickly challenged by Eastern University's Walking One-Night Stand.

Travis Maddox, lean, cut, and covered in tattoos, is exactly what Abby needs—and wants—to avoid. He spends his nights winning money in a floating fight ring, and his days as the ultimate college campus charmer. Intrigued by Abby's resistance to his appeal, Travis tricks her into his daily life with a simple bet. If he loses, he must remain abstinent for a month. If Abby loses, she must live in Travis's apartment for the same amount of time. Either way, Travis has no idea that he has met his match.
On Thursday Mona shares an ARC review of A Lady by Midnight by Tessa Dare

A temporary engagement, a lifetime in the making…

After years of fending for herself, Kate Taylor found friendship and acceptance in Spindle Cove–but she never stopped yearning for love. The very last place she'd look for it is in the arms of Corporal Thorne. The militia commander is as stone cold as he is brutally handsome. But when mysterious strangers come searching for Kate, Thorne steps forward as her fiance. He claims to have only Kate's safety in mind. So why is there smoldering passion in his kiss?

Long ago, Samuel Thorne devoted his life to guarding Kate's happiness. He wants what's best for her, and he knows it's not marriage to a man like him. To outlast their temporary engagement, he must keep his hands off her tempting body and lock her warm smiles out of his withered heart. It's the toughest battle of this hardened warrior's life…and the first he seems destined to lose.
On Friday we have an ARC review of The Way to a Duke's Heart by Caroline Linden

Charles de Lacey, Lord Gresham, is running out of time, running from his responsibilities, and running from love.

Destined to be a duke, Charles de Lacey has led a life of decadent pleasure, free of any care for propriety or responsibility. It comes as a terrible shock to learn that he might be stripped of everything, thanks to his father's scandalous past. He has no choice but to find the blackmailer who would ruin him—and his only link to the villain is a woman who may be part of the plot…

To save his fortune and title, he vows he'll stop at nothing—in fact, he's all too eager to unravel the beautiful, tart-tongued Tessa Neville. She intrigues him and tempts him like no other lady ever has. With only his heart to guide him, and keenly aware that his entire future is at stake, Charles must decide: is she the woman of his dreams, or an enemy in disguise?
Finally on Saturday it's time for the On My Wishlist feature! This time with Kitt and Eowyn!
On My Wishlist a fun weekly event hosted by Cosy Up Book Reviews
That's it for us this week!
Thanks for stopping by and commenting!
Paperback Dolls is made up of women from different parts of the world, with different backgrounds, different tastes and beliefs that were brought together through a love of reading. We like to think of ourselves as a cyber version of "The View" that focuses on books, authors, and reading. We are proof positive that one common love can unite the most opposite of people and form lasting friendships that introduce other ways of life and perspectives to each other.
Paperback Dolls