Home » Articles, Giveaways, News, Week in Review, Winners
Week in Review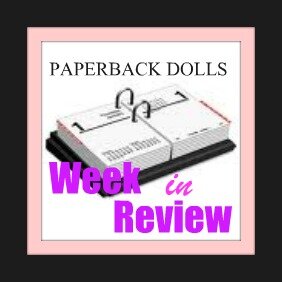 Welcome one and all to the week in review!
Week in Review is when we take a look at the past week and everything that's been going on at Paperbackdolls.com – plus we share what you can expect from the week to come…
Last Week on Paperback Dolls…
On Monday Mona reviewed The Prince by Tiffany Reisz

Keep your friends close and your enemies closer…preferably in bed. That's always been Kingsley Edge's strategy with his associate, the notorious New York dominatrix Nora Sutherlin. But with Nora away in Kentucky, now it's Kingsley's chance to take her place at the feet of the only man he's ever wanted — Søren, Nora's on-again, off-again lover — until a new threat from an old enemy forces him to confront his past.

Wes Railey is still the object of Nora's tamest yet most maddening fantasies, and the one man she can't forget. He's young. He's wonderful. He's also thoroughbred royalty and she's in "his" world now. But Nora is no simpering Southern belle, and her dream of fitting into Wesley's world is perpetually at odds with her dear Søren's relentlessly seductive pull.

Two worlds of wealth and passion call to her and whichever one Nora chooses, it will be the hardest decision she will ever have to make… unless someone makes it for her… READ REVIEW
On Tuesday Chrissy was here with her Over 18′s only review of Texas Winter by R.J. Scott

Riley's past comes back to haunt him both professionally and personally.

His dead brother left more than just bitter memories for Riley to deal with. The FBI get involved and suddenly it is more than his good name that is on the line. Jack is always there for him but how much more can Riley's husband reasonably be able to understand?

Especially when Riley finds out on his delayed honeymoon that he has an eight year old daughter he never knew existed… READ REVIEW
On Wednesday Chrissy was back with a review of In God We Trust All Others Pay Cash by Jean Shepherd

A beloved, bestselling classic of humorous and nostalgic Americana, reissued in a strikingly designed paperback edition.

Before Garrison Keillor and Spalding Gray there was Jean Shepherd: a master monologist and writer who spun the materials of his all-American childhood into immensely resonant–and utterly hilarious–works of comic art. In God We Trust: All Others Pay Cash represents one of the peaks of his achievement, a compound of irony, affection, and perfect detail that speaks across generations.

In God We Trust, Shepherd's wildly witty reunion with his Indiana hometown, disproves the adage "You can never go back." Bending the ear of Flick, his childhood-buddy-turned-bartender, Shepherd recalls passionately his genuine Red Ryder BB gun, confesses adolescent failure in the arms of Junie Jo Prewitt, and relives a story of man against fish that not even Hemingway could rival. From pop art to the World's Fair, Shepherd's subjects speak with a universal irony and are deeply and unabashedly grounded in American Midwestern life, together rendering a wonderfully nostalgic impression of a more innocent era when life was good, fun was clean, and station wagons roamed the earth.

A comic genius who bridged the gap between James Thurber and David Sedaris, Shepherd may have accomplished for Holden, Indiana, what Mark Twain did for Hannibal, Missouri. READ REVIEW

Then on Thursday Believer shared a review of the Hexed anthology


Four of the bestselling names in romance and fantasy come together in this collection of thrilling novellas featuring powerful women who know how to handle a hex or two. READ REVIEW

And on Friday Mona was here to share some of her Young Adult genre picks!

Finally on Saturday On My Wishlist was back!

This time with Noa


On My Wishlist a fun weekly event hosted by Cosy Up Book Reviews

Next Week on Paperback Dolls…

On Monday Mona is here with a review of Sam Cruz's Infallible Guide to Getting Girls by Tellulah Darling


Why the hell can't chicks be more like guys?

That question plagues high school senior Sam Cruz. Sam is perfectly happy being a player. He just wishes girls wouldn't change the game from sex to relationships. It makes him look like an asshole. But when Sam's best friend, Ally Klinger, gets dumped, she begs him to transform her into someone who can screw around then screw off. No risk of heartbreak that way. It's Sam's chance to create the perfect female AND cheer up his best friend. Armed with Sam's Three Step Guide to Backseat Success, Ally gets the game better than Sam thought she would and before long, Sam has his wish: the female version of himself. Too bad it's driving him nuts. Told from Sam's and Ally's alternating POVs, Sam Cruz's Infallible Guide to Getting Girls is a fast-paced romantic comedy that follows these teens as they navigate the minefield of sex, love, and friendship.

On Tuesday Chrissy reviews Into the Wild by Erin Hunter


For generations, four Clans of wild cats have shared the forest according to the laws laid down by their warrior ancestors. But the ThunderClan cats are in grave danger, and the sinister ShadowClan grows stronger every day. Noble warriors are dying– and some deaths are more mysterious than others. In the midst of this turmoil appears an ordinary house cat named Rusty . . . who may turn out to be the bravest warrior of them all.

 

 

 

 

 

On Wednesday Believer is here with a review of the anthology An Apple for the Creature


What could be scarier than the first day of school? How about a crash course in the paranormal from Charlaine Harris and Toni L. P. Kelner, editors of Home Improvement: Undead Edition? Your worst school nightmares—taking that math test you never studied for, finding yourself naked in school assembly, not knowing which door to enter—will pale in comparison to these thirteen original stories that take academic anxiety to whole new realms.

In #1 New York Times bestselling author Charlaine Harris's story, "Playing Possum," Sookie Stackhouse brings enough birthday cupcakes for her nephew's entire class but finds she's one short when the angry ex-boyfriend of the school secretary shows up.

When her guardian, Kate Daniels, sends her undercover to a school for exceptional children, teenaged Julie learns an all-new definition of "exceptional," in New York Times bestselling author Ilona Andrews's "Magic Tests."

For those who like fangs with their forensics, New York Times bestselling author Nancy Holder offers "VSI," in which FBI agent Claire is tested as never before in a school for Vampire Scene Investigation.

And in New York Times bestselling author Thomas Sniegoski's "The Bad Hour," Remy Chandler and his dog Marlowe find evil unleashed in an obedience school.

You'll need more than an apple to stave off the creatures in these and nine other stories. Remember your first lesson: resistance is fruitless!

On Thursday Noa is here with an ARC review of India Black and the Rajah's Ruby a novella by Carol K Carr

India Black uses her wit and wiles as both a madam and a spy, proving she's the best there is when it comes to undercover work…

Drawn into intrigue by her lover Philip Barrett, India finds herself being used as a pawn to help him steal a valuable jewel. Turning the tables, she proves that India Black answers to no man, no matter how attractive he may be…

And on Friday Noa is back with a review of Unnatural Habits by Kerry Greenwood

1929: Girls are going missing in Melbourne. Little, pretty golden-haired girls. And not just pretty. Three of them are pregnant, poor girls from the harsh confines of the Magdalene Laundry. People are getting nervous.Polly Kettle, a pushy, self-important Girl Reporter with ambition and no sense of self preservation, decides to investigate – and promptly goes missing herself.It's time for Phryne and Dot to put a stop to this and find Polly Kettle before something quite irreparable happens to all of them. It's all piracy and dark cellars, convents and plots, murder and mystery …. and Phryne finally finds out if it's true that blondes have more fun…

Finally on Saturday On My Wishlist is back!


On My Wishlist a fun weekly event hosted by Cosy Up Book Reviews

That's it for us this week!
Thanks for stopping by and commenting!
Paperback Dolls is made up of women from different parts of the world, with different backgrounds, different tastes and beliefs that were brought together through a love of reading. We like to think of ourselves as a cyber version of "The View" that focuses on books, authors, and reading. We are proof positive that one common love can unite the most opposite of people and form lasting friendships that introduce other ways of life and perspectives to each other.
Paperback Dolls