Home » Articles, Giveaways, Guests, News, Week in Review, Winners
Week in Review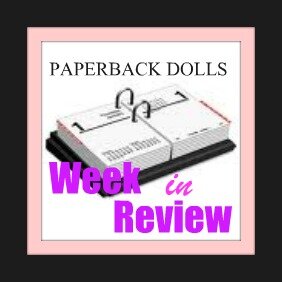 Welcome one and all to the week in review!
Week in Review is when we take a look at the past week and everything that's been going on at Paperbackdolls.com – plus we share what you can expect from the week to come…
Last Week on Paperback Dolls…
On Monday Teresa visited with an ARC review of Renegade by Amy Carol Reeves
Brimming with romance and danger, the suspenseful Ripper series continues

The Conclave—a secret group with twisted ideals and freakish practices—has been wiped out, thanks to Arabella Sharp. Now there's a new malevolence afoot. Fishermen are getting killed, their partially devoured bodies washing up on the shores of Scotland. Is the Ripper responsible? Or have the Conclave's sinister experiments left behind something more monstrous? Abbie fears the worst when her beloved Dr. William Siddal vanishes. To save the man she loves, Abbie must comply with the Ripper's dreadful orders—and put her own life in grave danger. READ REVIEW
Then on Tuesday Mona was here with a review of The Immortal Rules by Julie Kagawa
To survive in a ruined world, she must embrace the darkness…

Allison Sekemoto survives in the Fringe, the outermost circle of a walled-in city. By day, she and her crew scavenge for food. By night, any one of them could be eaten. Some days, all that drives Allie is her hatred of them—the vampires who keep humans as blood cattle. Until the night Allie herself dies and becomes one of the monsters.

Forced to flee her city, Allie must pass for human as she joins a ragged group of pilgrims seeking a legend—a place that might have a cure for the disease that killed off most of civilization and created the rabids, the bloodthirsty creatures who threaten human and vampire alike. And soon Allie will have to decide what and who is worth dying for…again.

Enter Julie Kagawa's dark and twisted world as an unforgettable journey begins. READ REVIEW
On Wednesday Lil was here with an ARC review of Robyn Carr's The Wanderer
Nestled on the Oregon coast is a small town of rocky beaches and rugged charm. Locals love the land's unspoiled beauty. Developers see it as a potential gold mine. When newcomer Hank Cooper learns he's been left an old friend's entire beachfront property, he finds himself with a community's destiny in his hands.

Cooper has never been a man to settle in one place, and Thunder Point was supposed to be just another quick stop. But Cooper finds himself getting involved with the town. And with Sarah Dupre, a woman as complicated as she is beautiful.

With the whole town watching for his next move, Cooper has to choose between his old life and a place full of new possibilities. A place that just might be home. READ REVIEW
On Thursday Noa was here with an ARC review of A Spear of Summer Grass by Deanna Raybourn

Paris, 1923

The daughter of a scandalous mother, Delilah Drummond is already notorious, even amongst Paris society. But her latest scandal is big enough to make even her oft-married mother blanch. Delilah is exiled to Kenya and her favorite stepfather's savannah manor house until gossip subsides.

Fairlight is the crumbling, sun-bleached skeleton of a faded African dream, a world where dissolute expats are bolstered by gin and jazz records, cigarettes and safaris. As mistress of this wasted estate, Delilah falls into the decadent pleasures of society.

Against the frivolity of her peers, Ryder White stands in sharp contrast. As foreign to Delilah as Africa, Ryder becomes her guide to the complex beauty of this unknown world. Giraffes, buffalo, lions and elephants roam the shores of Lake Wanyama amid swirls of red dust. Here, life is lush and teeming-yet fleeting and often cheap.

Amidst the wonders-and dangers-of Africa, Delilah awakes to a land out of all proportion: extremes of heat, darkness, beauty and joy that cut to her very heart. Only when this sacred place is profaned by bloodshed does Delilah discover what is truly worth fighting for-and what she can no longer live without. READ REVIEW
And on Friday Believer was here with an ARC review of Hurricane Lily by Rebecca Rogers Maher

Lily Sawyer flees her controlling, wealthy family in New York City for a solitary existence on Cape Cod. Three months later, a mounting anxiety binds her to the house she can no longer leave.

With hurricane season approaching, Lily hires Cliff Buckley—an angry carpenter with an immediate disgust for his elitist employer—to storm-proof her house.

Cliff soon discovers they have more in common than he thinks, as well as a raging spark between them could either destroy—or save—everything they care about. The question is, can either of them survive Hurricane Lily? READ REVIEW
Next Week on Paperback Dolls…
On Monday Eowyn is here with a review of A Caribbean Spell by Maureen O. Betita

First in an exciting new series from the author of The Kraken's Caribbean. Blending romance, pirates, paranormal, scifi and fantasy…it must be A Caribbean Spell!

Meet Miranda, experienced time traveler, sexual adventurer, and do-gooder. Making friends and finding lovers comes easy, while interfering is her specialty. Confident, impetuous, she treasures new experiences; life is for learning and the joy is in the journey.
On Tuesday author Amy Carol Reeves answers our questions!

On Wednesday Teresa is here with a review of Code Red by Amy Noelle
After getting hurt in college by a gorgeous man, Nicole Magette vowed never to risk losing her heart again. Now she lives a structured and satisfying life. Her work is easy, her friends are her family, and the only consistent men in her life are her two cats, Winchester and Huntington Peabody the Third. She doesn't date, and she hooks up only with losers—men she has absolutely no risk of falling for. But if she finds herself in danger, she has her old fail-safe in place—the Code Red.
On Thursday Doll Elvie is here with a review of Twice Tempted by Jeaniene Frost and a Q&A!
Dating the Prince of Darkness has its challenges…

Leila's psychic abilities have been failing her, and now she isn't sure what the future holds. If that weren't enough, her lover, Vlad, has been acting distant. Though Leila is a mere mortal, she's also a modern woman who refuses to accept the cold shoulder treatment forever–especially from the darkly handsome vampire who still won't admit that he loves her.

Like choosing between eternal love and a loveless eternity…

Soon circumstances send Leila back to the carnival circuit, where tragedy strikes. And when she finds herself in the crosshairs of a killer who may be closer than she realizes, Leila must decide who to trust– the fiery vampire who arouses her passions like no other or the tortured knight who longs to be more than a friend? With danger stalking her every step of the way, all it takes is one wrong move to damn her for eternity.
Finally, on Friday Noa is here with a review of Teresa Grant's The Paris Affair
In the wake of the Battle of Waterloo, the Bourbon court in Paris and their victorious allies give lavish parties while the Royalists are quick to exact vengeance for everything since the Revolution. Countless Bonapartists are arrested and executed in what comes to be known as the White Terror. In this seething atmosphere British attaché and spy Malcolm Rannoch learns that his murdered half-sister, Princess Tatiana Kirsanova, may have left behind a secret child in Paris; a child who may now be in grave danger.

While friends and former associates are imprisoned and executed around them, Malcolm and his wife Suzanne set out to find the girl. And as kings argue over legitimacy and relations battle over estates, trusting the wrong side can be deadly…
That's it for us this week!
Thanks for stopping by and commenting!
Paperback Dolls is made up of women from different parts of the world, with different backgrounds, different tastes and beliefs that were brought together through a love of reading. We like to think of ourselves as a cyber version of "The View" that focuses on books, authors, and reading. We are proof positive that one common love can unite the most opposite of people and form lasting friendships that introduce other ways of life and perspectives to each other.
Paperback Dolls