Home » Articles, Authors, Giveaways, Guests, News, Reviewers, Week in Review, Winners
Week in Review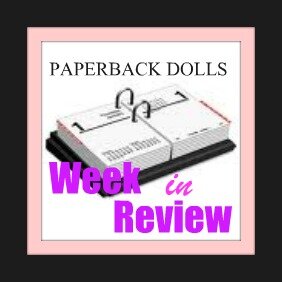 Welcome one and all to the week in review!
Week in Review is when we take a look at the past week and everything that's been going on at Paperbackdolls.com – plus we share what you can expect from the week to come…
Last Week on Paperback Dolls…
On Monday Believer was here with a review of Oblivion Storm by R. A. Smith

Over a century past, a wily young pauper wins the hearts of a childless couple of ancient nobility, and a place in one of the most prestigious families in London. The sole heir to the Grenshall family legacy, Iris 'Tally' Grenshall fights to protect her family from the machinations of an evil woman, but discovers her adversary presents a threat much greater than she ever imagined…

The victim of a brutal attack, Rose remembers one thing: a long-dead woman giving her an impossible task. She knows only the price of failure as she sets out to retrieve a deadly talisman, with the aid of new friends and powers over the living and the dead. As the body count rises, Rose's quest grows desperate–with London itself in jeopardy.

Rose and Tally share fates intertwined. Rose must discover how before the secrets of the past destroy her, her friends, and all of London. READ REVIEW
On Tuesday Noa was here with an ARC review of With This Kiss – a novella in three parts by Eloisa James

Lady Grace Ryburn, the daughter of the Duke and Duchess of Ashbrook, has fallen wildly in love with Colin Barry, a dashing young lieutenant serving his country in the Royal Navy. When he returns home to exuberant celebrations, will he even notice the quiet wallflower he grew up with … or will he fall for Grace's sparkling, gorgeous sister?

Author's Note: Lady Grace is the eldest daughter of the Duke and Duchess of Ashbrook, from The Ugly Duchess, and Colin is the eldest adopted son of Sir Griffin Barry, from Seduced by a Pirate. READ REVIEW
On Wednesday Chrissy was here with her review of the fourth installment in the Giver series: Son by Lois Lowry

They called her Water Claire. When she washed up on their shore, no one knew that she came from a society where emotions and colors didn't exist. That she had become a Vessel at age thirteen. That she had carried a Product at age fourteen. That it had been stolen from her body. Claire had a son. But what became of him she never knew. What was his name? Was he even alive?  She was supposed to forget him, but that was impossible. Now Claire will stop at nothing to find her child, even if it means making an unimaginable sacrifice.

Son thrusts readers once again into the chilling world of the Newbery Medal winning book, The Giver, as well as Gathering Blue and Messenger where a new hero emerges. In this thrilling series finale, the startling and long-awaited conclusion to Lois Lowry's epic tale culminates in a final clash between good and evil. READ REVIEW
Then on Thursday and Friday Lil was here with a double dose of Christie Ridgway
On Thursday there was a review of Bungalow Nights

Combat medic Vance Smith made a promise to a fallen officer: to treat the man's young daughter to an idyllic vacation at Beach House No. 9. One month, some sun and surf, a "helmet list" of activities to check off and Vance will move on. But the "little girl" he's expecting turns out to be a full-grown woman. With silky hair, big brown eyes and smelling sweetly of the cupcakes she makes for her mobile bakery, Layla Parker is irresistible. And Vance shouldn't lay a finger on her. Honor-and one heck of a scarred heart-says so.

To Layla, Vance is a hero who was injured trying to save her father's life. She intends to spend their month of lazy days and warm nights taking very good care of the gorgeous soldier-inside and out…. READ REVIEW
And on Friday she was here with an ARC review of The Love Shack

Globe-trotting photojournalist Gage Lowell spent carefree childhood summers in Crescent Cove. Now that he desperately needs some R & R, he books a vacation at Beach House No. 9—ready to soak up some sun and surprise old friend and property manager Skye Alexander. Their long-distance letters got him through a dangerous time he can't otherwise talk about. But when
he arrives, the tightly wound beauty isn't exactly happy to see him.

Skye knows any red-blooded woman would be thrilled to spend time with gorgeous, sexy Gage. But she harbors secrets of her own, including that she might just be a little bit in love with him. And she's convinced the restless wanderer won't stay long enough for her to dare share her past—or dream of a future together. Luckily for them both, summer at Crescent Cove has a way of making the impossible happen…. READ REVIEW
Next Week on Paperback Dolls…
On Monday Mona is here with a review of The Nightmare Affair by Mindee Arnett

Sixteen-year-old Dusty Everhart breaks into houses late at night, but not because she's a criminal. No, she's a Nightmare.

Literally.

Being the only Nightmare at Arkwell Academy, a boarding school for magickind, and living in the shadow of her mother's infamy, is hard enough. But when Dusty sneaks into Eli Booker's house, things get a whole lot more complicated. He's hot, which means sitting on his chest and invading his dreams couldn't get much more embarrassing. But it does. Eli is dreaming of a murder.

Then Eli's dream comes true.

Now Dusty has to follow the clues—both within Eli's dreams and out of them—to stop the killer before more people turn up dead. And before the killer learns what she's up to and marks her as the next target.
On Tuesday Chrissy is here with a review of The Crimson Petal and the White by Michel Faber

Michel Faber leads us back to 1870s London, where Sugar, a nineteen-year-old whore in the brothel of the terrifying Mrs. Castaway, yearns for escape into a better life. Her ascent through the strata of Victorian Society offers us intimacy with a host of lovable, maddening, unforgettable characters." They begin with William Rackham, an egotistical perfume magnate whose ambition is fueled by his lust for Sugar, and whose patronage of her brings her into proximity to his extended family and milieu: his unhinged, child-like wife, Agnes; his mysteriously hidden-away daughter, Sophie; and his pious brother Henry, foiled in his devotional calling by a persistently less-than-chaste love for the Widow Fox, whose efforts on behalf of The Rescue Society lead Henry into ever-more disturbing confrontations with flesh…
On Wednesday Teresa visits with a review of Frost Burned by Patricia Briggs

Mercy Thompson's life has undergone a seismic change. Becoming the mate of Adam Hauptman—the charismatic Alpha of the local werewolf pack—has made her a stepmother to his daughter Jesse, a relationship that brings moments of blissful normalcy to Mercy's life. But on the edges of humanity, what passes for a minor mishap on an ordinary day can turn into so much more…
After an accident in bumper-to-bumper traffic, Mercy and Jesse can't reach Adam—or anyone else in the pack for that matter. They've all been abducted.
Through their mating bond, all Mercy knows is that Adam is angry and in pain. With the werewolves fighting a political battle to gain acceptance from the public, Mercy fears Adam's disappearance may be related—and that he and the pack are in serious danger. Outclassed and on her own, Mercy may be forced to seek assistance from any ally she can get, no matter how unlikely.
On Thursday Chrissy is back with a review of The Apple by Michel Faber

"New Crimson Petal Stories". In this collection, Michael Faber revisits the world of his bestselling novel, "The Crimson Petal & White", briefly opening doors onto the lives of its characters to give us tantalising glimpses of where they sprang from and what happened to them.
Finally on Friday Noa reviews Murder Below Montparnasse by Cara Black

A long-lost Modigliani portrait, a grieving brother's blood vendetta, a Soviet secret that's been buried for 80 years—Parisian private investigator Aimée Leduc's current case is her most exciting one yet.

When Aimée's long-term partner and best friend Rene leaves their detective agency for a new job in Silicon Valley, Aimée knows she can handle the extra workload. At least, that what she tells herself. Repeatedly.

But all bets are off when Yuri Volodya, a mysterious old Russian man, hires Aimée to protect a painting. By the time she gets to his Montparnasse atelier, the precious painting has already been stolen, leaving Aimée smelling a rat. The next day, Yuri is found tortured to death in his kitchen. To top it all off, it looks like Aimée isn't the only one looking for the painting. Some very dangerous people are threatening her and her coworkers, and witnesses are dropping like flies. Now Aimée has to find the painting, stop her attackers, and figure out what her long-missing mother, who is on Interpol's most wanted list, has to do with all this—fingers crossed she wasn't Yuri's murderer, despite clues pointing in that direction.

Obviously, Rene doesn't need to worry. Aimee has things under control.
That's it for us this week!
Thanks for stopping by and commenting!
Paperback Dolls is made up of women from different parts of the world, with different backgrounds, different tastes and beliefs that were brought together through a love of reading. We like to think of ourselves as a cyber version of "The View" that focuses on books, authors, and reading. We are proof positive that one common love can unite the most opposite of people and form lasting friendships that introduce other ways of life and perspectives to each other.
Paperback Dolls